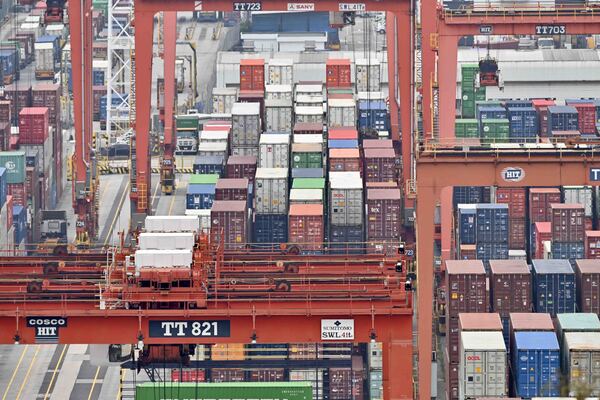 The Government today launched Phase 2 of the Trade Single Window (TSW) with the goal of covering a total of 28 types of trade documents on the one-stop electronic platform.
Trade members may lodge business-to-government trade documents for trade declaration and cargo clearance on the platform.
The first 14 types of trade documents covered from today include licences to import, export or re-export for endangered species, etc.
Phase 2 services will be extended progressively to cover the other 14 types of trade documents.
The TSW's Phase 2 has incorporated new functions such as advanced account management functions, full support for the 'iAM Smart' platform, seamless interface with the information systems of relevant government departments, provision of notification service and functions to allow submissions in bulk.
The Government said the use of the services provided by TSW's Phase 2 is voluntary. Trade members may continue to use existing channels provided by relevant government departments for submitting trade documents.
The Government encourages trade members to register online as TSW users on the TSW website to save time and cost, enhance the efficiency of cargo clearance in Hong Kong, and maintain the city's status as a prominent international trade centre and logistics hub.
The TSW will be implemented in three phases. Trade documents covered by the first two phases are mainly import and export licences or permits required for specific controlled goods.
First rolled out in December 2018, Phase 1, covering 14 types of trade documents, is now in full service.
The services are well received by the trade, with around 11,650 licences or permits issued under Phase 1 services in 2022, accounting for about 90% of the annual number of relevant documents issued. 
The transaction volume of the 28 types of trade documents covered by Phase 2 exceeded 1.1 million in 2022. 
Phase 3 will cover Import & Export Declaration, Advance Cargo Information, Cargo Manifest & Cargo Report in respect of different transport modes, and applications for the Certificate of Origin and Permit for Dutiable Commodities. The total volume of these documents was around 93 million in 2022.
The Government's objective is to roll out Phase 3 services by batch starting from early 2026 and fully implement the TSW by 2027.
For enquiries, call the Customs & Excise Department's Office of Trade Single Window Operation at 2117 3348 or send an email.