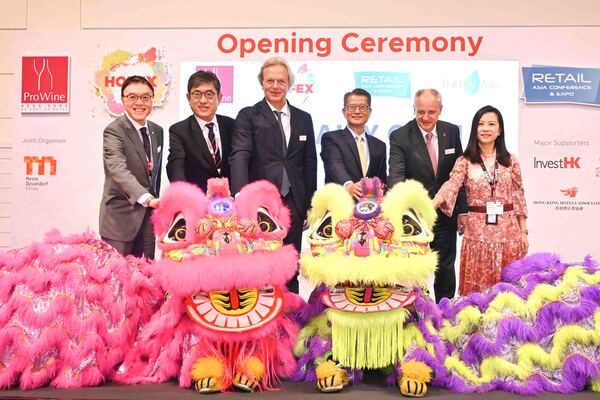 I am delighted to join you for the opening ceremony of HOFEX and ProWine Hong Kong, along with the Retail Asia Conference & Expo – powering Hong Kong's retail technological revolution – and Build4Asia, the trade fair leading the way for Asia's building, engineering and security industries.
This is the 20th edition of HOFEX. It is also Hong Kong's first international food and hospitality trade show since our full return to normalcy following the COVID-19 pandemic.
Yes, Hong Kong is back. We are back buying and selling and trading, back doing deals and creating opportunities with the world. Nothing underlines that more than this morning's spectacular multi-trade-fair opening here at the Convention & Exhibition Centre.
The four fairs are set to attract more than 38,000 international and local traders from 73 countries and regions. They are here, you are here, to re-energise Hong Kong's trade and business, to reconnect us with companies, large and small, from the Mainland, throughout the region and around the world. I must say, welcome back!
And what a magnificent three days of sourcing, trading and networking to look forward to.
HOFEX highlights begin with the Hong Kong International Culinary Classic. More than 300 fabulous chefs from seven countries and regions will food fight for this year's culinary crown.
And in fact, I do not know whether you have tried all of our more than 200 Michelin-recommended restaurants. If not, do plan your diary for the coming year to go to them all.
Alongside the chefs, there is the Hong Kong Professional Mixologist Challenge, the Hong Kong International Beer Awards and the ProWine Hong Kong Wine Forum to cheer.
Despite the impact of the epidemic, Hong Kong remains the region's wine-trading and distribution hub.
Indeed, the value of wine re-exported from Hong Kong has grown substantially since 2020. Last year, its total value was up 45%, year-on-year, with Macau and the Mainland accounting for nearly 70% of our re-export destinations.
Given Hong Kong's zero-wine duties and our advanced logistics network, I am confident that international wine companies will tap into the region's fast-growing markets, particularly the Greater Bay Area.
Build4Asia also puts a spotlight on the bay area, including its technologically advanced machinery engineering companies.
The Hong Kong Special Administrative Region Government is committed to developing innovative construction applications. Indeed in my Budget this year, I have set aside $30 million to establish a Building Testing & Research Institute. It would set standards, conduct testing and work to attract R&D (research and development) talent to come to Hong Kong.
I am pleased to note that the Retail Asia Conference & Expo has attracted a great variety of retail-tech companies. They cover everything from e-commerce and chatbots to data analytics, the supply chain, payment systems and much more.
That is a smart fit with the Hong Kong SAR Government's digital technology plans and our goal of creating a world-class digital economy. We are working to connect our traditional financial services prowess with the innovation that has inspired the rapid rise of fintech, Web3 and virtual assets.
Ladies and gentlemen, the promise of the Hong Kong convention and exhibition industry is vital to Hong Kong's future as an international business and trading centre.
In this connection, the Hong Kong SAR Government will launch a three-year, $1.4 billion incentive scheme for attracting exhibitions to come to Hong Kong. It is expected to help support more than 200 exhibitions.
I am grateful to Informa Markets for organising these four international trade shows here in Hong Kong, the region's trade fair capital.
I wish you all, buyers and sellers alike, the best of business at HOFEX and its concurrent fairs. I know you will have an unforgettable stay in Hong Kong, Asia's food, wine and fun city.
Financial Secretary Paul Chan gave these remarks at the joint opening ceremony of HOFEX, ProWine Hong Kong @ HOFEX, the Retail Asia Conference & Expo, Build4Asia 2023 and the Hong Kong International Culinary Classic on May 10.