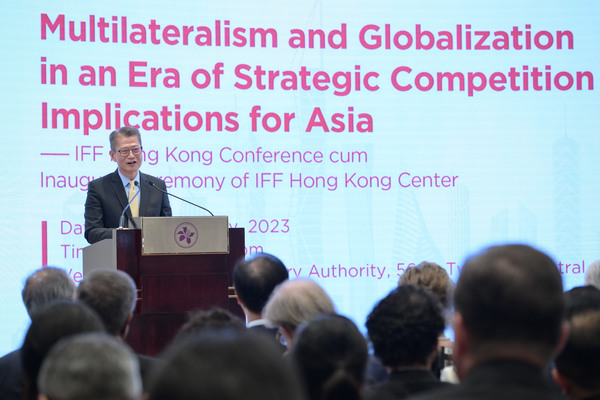 We are honoured to have you joining us for today's high-level conference, organised by the International Finance Forum (IFF), hosted by the Hong Kong Monetary Authority and supported by the Hong Kong Academy of Finance.
I am pleased to note that the formal opening of the IFF Hong Kong Center will take place in just a few minutes. It will be only the second IFF Center outside the Mainland, following the recent opening of a representative office in Washington, DC.
The IFF, established in 2003 by more than 20 countries, regions and international organisations, is a high-level platform for dialogue and multilateral co-operation in the field of global finance. Today's theme – Multilateralism and Globalization in an Era of Strategic Competition and Implications for Asia – underlines that important commitment.
So, too, does the launching of the IFF Hong Kong Center, which will take responsibility for international affairs on behalf of the IFF.
It is true that the international economy is beset with unprecedented risks and uncertainties. Global growth is expected to slow down this year, with substantial risk of "hard landing".
High interest rates continue to weigh on business activities. Inflation, while easing, remains stubbornly high. The effect of the recent banking crisis in the US and Europe with lingering impact has heightened the concerns surrounding an already complex economic environment. Given the fragile state of the global economy, it is critical that we work together.
And yet, some policymakers have turned to protectionism, putting in place barriers to trade, capital flow, investment and technology transfers. They seem to view the international order as one that is based on zero-sum competition.
Such narrow-minded thinking is profoundly reshaping global economic activities, shifting trade and supply chains to tie to geopolitical blocs. Such notions as "onshoring", "friendshoring" or "nearshoring" are dominating discussions among the international business community and academia. Financial flows, foreign direct investment and supply chain may become more fragmented as a result.
That could well mean the hindering of cross-border capital flows, a reduction in international financing options and risk sharing. Individual countries may lose diversity in funding sources, leading to higher financing costs and more fragmented liquidity.
No one will benefit in such a global economic environment.
So you may ask: what is the perspective of Hong Kong on the prevailing global trend? What are we going to do in face of such a challenging global environment?
Our answer lies with what our nation China has reiterated in the recent high-level meetings in Beijing. As President Xi Jinping said, and I quote, "We must strive to promote the building of a community with a shared future for mankind." Deeply engraved in the spirit of a shared future are peace, development, co-operation and mutual benefit. Indeed, at a time when the world is undergoing rapid changes unseen in a century, the world needs more inclusive and resilient development from which people can benefit. That is why our country is committed to high-level two-way opening up and practising true multilateralism.
The Belt & Road Initiative is a clear and compelling illustration of multilateralism in action. Launched by President Xi Jinping 10 years ago, the Belt & Road Initiative upholds the principles of extensive consultation, collaboration, and shared benefits. It has made substantial contribution to participating countries and economies. The China-Europe Railway Express, for example, has provided an alternative land route between the continents of Asia and Europe, unleashing the economic potential of Eurasia and Central Asia.
In Indonesia, track laying of the Jakarta-Bandung High-Speed Railway was recently completed. The landmark project, I am pleased to say, is scheduled for operation this year.
Our country remains committed to this visionary international collaboration initiative. Last year, China's Belt & Road non-financial outbound direct investment reached nearly US$21 billion, up 3.3%, year on year, despite the challenging economic environment.
And the annual trade volume between China and Belt & Road countries has doubled – from around US$1 trillion in 2013 to more than US$2 trillion in 2022. That is an average annual growth rate of 8%.
Thanks to the "one country, two systems" principle, Hong Kong is in a unique position with unparalleled advantages to connect the Mainland and the rest of the world.
Hong Kong is firmly committed to free trade, to reducing trade barriers and ensuring the free flow of goods, capital and people. As a founding member of the World Trade Organization (WTO), Hong Kong is a staunch supporter of the rules-based multilateral trading system, with the WTO at its core.
In this regard, we are keen to see that the WTO restores a well-functioning dispute-settlement system accessible to all members.
As the world progresses towards carbon neutrality and sets priorities on ESG (environmental, social and governance), there is much Hong Kong can offer in green finance. Estimates have shown that the green financing gap in Asia alone would amount to some US$66 trillion in the next three decades. Hong Kong is a green financing hub – last year, the green debts issued or arranged in Hong Kong exceeded US$80 billion. In terms of the amount of international green bond issued, we are No. 1 in Asia.
Amount aside, Hong Kong also excels in setting benchmarks and experimenting with new frontiers. For instance, we were the first Asian government to issue 30-year and 20-year green bonds denominated in US dollars and euro respectively. We also issued the first-ever government tokenised green bond in February this year. The issuance showcased Hong Kong's ability to combine the bond market, green and sustainable finance and fintech in one promising prospect.
At the same time, Hong Kong and our sister cities in the Greater Bay Area (GBA) are also home to a burgeoning cluster of greentech companies. Their work ranges from environmental engineering and carbon sequestration to energy reduction. Many of them are already finding international markets for their offerings.
We envisage that Hong Kong and the GBA together will host a complete, vibrant green industry and financing chain serving the needs of the region and the world.
Ladies and gentlemen, to make all our contributions worth the while, we need free-flowing dialogue, wide-ranging communication from region to region, nation to nation, government to government.
The IFF was exactly created to promote the strategic dialogue and candid communication the world needs.
It was established, too, to stimulate research and innovation, think-tank building and talent training that are so essential to global finance and its long-term progress.
Hong Kong is pleased to play a role in this meaningful undertaking, honoured to be part of the IFF and its inclusive global mission.
I look forward to working closely with the IFF, to advancing comprehensive and sustainable economic development for all.
Financial Secretary Paul Chan gave these remarks at the International Finance Forum (IFF) Hong Kong Conference & Inaugural Ceremony of IFF Hong Kong Center on May 5.