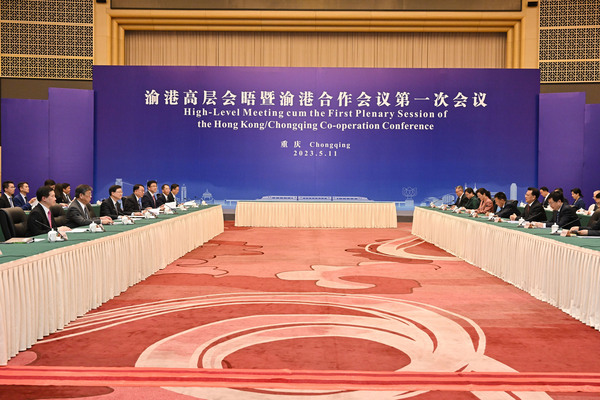 Hong Kong and Chongqing today established a new co-operation mechanism and agreed on pursuing holistic co-operation to serve the country's high-quality development at a high-level meeting in Chongqing.
It is the first high-level government co-operation mechanism established by the Hong Kong Special Administrative Region with Mainland provinces and municipalities since the current-term Government took office.
The High-Level Meeting & First Plenary Session of the Hong Kong/Chongqing Co-operation Conference was held by Chief Executive John Lee and CPC Chongqing Municipal Committee Secretary Yuan Jiajun.
The two officials were leading the Hong Kong SAR and Chongqing government delegations respectively.
State Council Hong Kong & Macao Affairs Office Deputy Director Wang Linggui also attended the meeting and plenary.
Mr Lee highlighted that the relationship between Hong Kong and Chongqing has always been very close, adding that under the country's overall blueprint, both places played important and unique roles.
The country's 14th Five-Year Plan clearly supports Hong Kong to consolidate and enhance its competitive advantages and develop the eight centres. Chongqing is the core city of the Chengdu-Chongqing Economic Circle and an important strategic link between the Belt & Road and the Yangtze River Economic Belt.
The Chief Executive noted that Hong Kong and Chongqing are complementary, and that strengthening co-operation would definitely achieve complementarity and mutual benefits as well as mark Hong Kong's better integration into the country's overall development.
Hong Kong and Chongqing reached a consensus on 11 co-operation areas, including the Belt & Road Initiative, economic, trade and investment co-operation.
The other 10 areas cover finance, innovation and technology, logistics, cultural exchange and tourism, education, talent exchange, youth development, legal and dispute resolution, health and Chinese medicine, and facilitation for Hong Kong people in the Mainland.
At the meeting, Hong Kong and Chongqing signed four co-operation memoranda.
Chief Secretary Chan Kwok-ki and Chongqing Vice Mayor Zhang Guozhi signed the "Hong Kong/Chongqing Co-operation Conference Mechanism", and the "Co-operation Memoradum of the High-Level Meeting & First Plenary Session of the Hong Kong/Chongqing Co-operation Conference".
Click here for details.