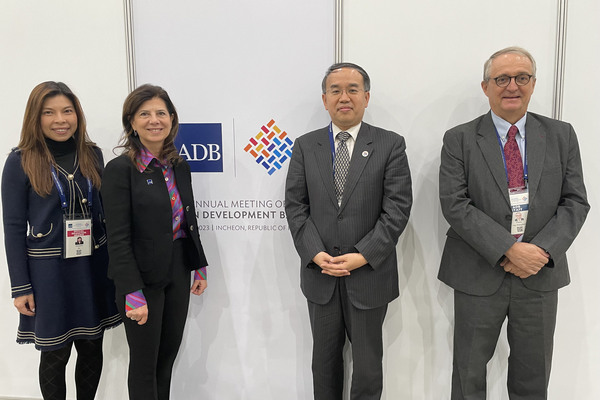 Secretary for Financial Services & the Treasury Christopher Hui met Asian Development Bank (ADB) President Masatsugu Asakawa and other banking executives, as he started his visit to Incheon, Korea.
During the meeting, Mr Hui said Hong Kong always welcomes the ADB to make use of the city's financial markets and services to reach out to target markets for fundraising and investments.
Given that the frequency and intensity of natural disasters are on the rise, Mr Hui noted that such a type of debt instrument is especially important for small island developing states which are most vulnerable to the rising trend of extreme climate change.
He told Mr Asakawa that Hong Kong will continue to offer strong support as a risk management centre to help bolster the region's safety and resilience.
Earlier today, the treasury chief met respectively ADB Vice President Roberta Casali and Treasurer Pierre Van Peteghem as well as Executive Director Rachel Thompson who represents Hong Kong's constituency on the ADB Board of Directors.
At the meeting with Bank of Korea Governor Rhee Chang-yong, Mr Hui pointed out that although 2022 was a difficult year for global financial markets, the Hong Kong financial market is well supported by the resilience and stability of the city's financial system.
The recent turmoil in the international banking sector has brought minimal impact to Hong Kong's banking system and monetary stability, he added.
Mr Hui also shared with Mr Rhee the Policy Statement on Development of Virtual Assets in Hong Kong issued last October.
Speaking at the Constituency Meeting at the ADB Annual Meeting, Mr Hui shared his views on Hong Kong's developments in green finance and decarbonisation. He also spoke about the city's efforts in accelerating its development into an international centre for green technology and finance.