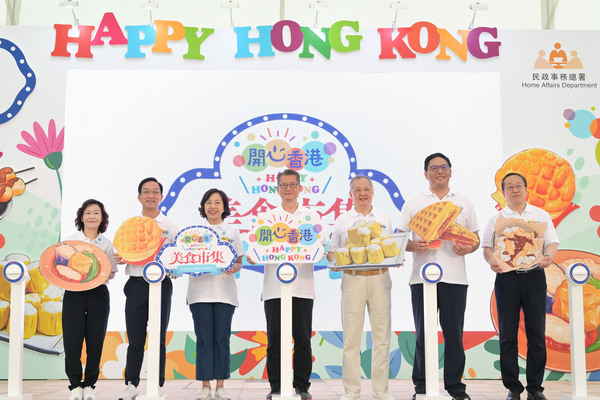 Financial Secretary Paul Chan today officiated at the opening ceremony of the second "Happy Hong Kong" Gourmet Marketplace together with Secretary for Home & Youth Affairs Alice Mak.
At the opening ceremony, Mr Chan said the Gourmet Marketplace allows people of different ages and backgrounds to gather happily for enjoying food. He thanked the Home Affairs Department, exhibitors and the community for their support in making the event a success.
Mr Chan also noted that Hong Kong's economic performance in the first quarter of this year had improved from that in the last quarter and the same period last year.
Following the full resumption of normal travel between Hong Kong and the Mainland as well as overseas regions, coupled with the Government's launch of consumption vouchers in mid-April, members of the public became more willing to spend and more travellers came to visit Hong Kong.
This had injected much impetus into the market and stimulated the retail and catering industries' performance in particular, the Financial Secretary added.
The second "Happy Hong Kong" Gourmet Marketplace, slated for today and tomorrow, is taking place at the area adjacent to the Sha Tin Park Amphitheatre.
In addition to featuring about 70 booths that offer Chinese cuisines and local flavours, the marketplace includes spectacular performances.
The third marketplace is scheduled for June 3 and 4 at the Kwun Tong Promenade's VESSEL and admission is free.