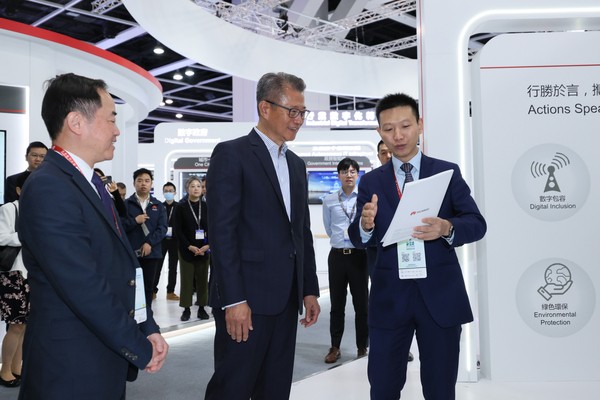 Rebranded from the Internet Economy Summit, the Digital Economy Summit is a great comeback, bringing great minds, visionaries and pioneers together to brainstorm how Hong Kong can maximise the potentials of digital economy and take innovation and technology to a higher level.
And for this FinTech Forum, I am glad that we have a distinguished group of speakers and panellists from regulators, the financial services industry, Web3 innovators and academia who will dive deep and share their valuable insights on different aspects of fintech, Web3 and the digital economy.
As the starter for today's rich programme, allow me to briefly talk about some of the developments and opportunities for the fintech industry in Hong Kong.
Hong Kong as a leader in fintech
Hong Kong has a vibrant fintech ecosystem. The COVID-19 pandemic did not stop us from attracting world-class visionaries to make Hong Kong their home. Only five years ago, we counted no more than 180 fintech companies. Today, we are home to more than 800 fintech enterprises, large and small. Together, they offer a wide range of innovative services in mobile payments, cross-border transfers, intelligent financial consultancy, wealth management, virtual asset trading and blockchain. A number of them have already marched into markets in Asia.
Our approach to fintech
This is the success of the concerted effort of the Government, the public sector and the private sector. As for the Government and the public sector, we have been taking a proactive and catalytic approach in spurring fintech development. That includes a series of seed funding schemes, investor matching, incubation and professional support services for fintech startups, including, among others, those provided by Cyberport. That also includes creating a favourable regulatory environment that facilitates innovation – for instance, rolling out regulatory sandboxes in collaboration with the authorities in the Greater Bay Area. We also take the lead in experimenting with fintech, like issuing the first ever tokenised government green bonds in February this year, by bringing bond issuance onto a distributed ledger.
Funding is a key element for startups. By building a vibrant private equity and venture capital ecosystem, as well as taking forward a series of reforms to facilitate the listing of new economy companies on our stock exchange since 2018, we have reinforced our strengths as a prime location for global innovative enterprises to grow and thrive, where they could access capital from the Mainland and all over the world.
Of course, much is attributable to the constant drive for innovation and excellence by our entrepreneurs who always invent new applications and business models and find new opportunities under evolving environments.
Fintech meets Web3
The emergence of Web3 is triggering a new wave of innovations in fintech. Virtual assets, stablecoins, decentralised finance, non-fungible tokens etc. They are set to become major forces of financial transformation in the years to come. We know they are irreversible trends that need to be embraced, but at the same time, some important issues arise. For example, would there be regulatory gaps? Would they transmit risks to the traditional financial system and threaten financial stability? How could we best protect individual investors from fraud and scams?
That is why when we issued our policy statement on the development of virtual assets, we have emphasised the "same activity, same risks, same regulation" principle, and the need to put in place timely and necessary guardrails so that virtual asset innovations can thrive in Hong Kong in a sustainable and responsible manner.
"Sustainable" is the keyword here. A healthy, sustainable ecosystem must have a strong immune system – that is, the ability to weed out the bad players, and insulate our financial system and stability from undue impact. The crux of this is whether we could apply balanced, proportionate regulation that will properly and adequately mitigate pertinent risks, while leaving sufficient room for innovative products and services to break new ground.
Regulation and facilitation are not against one other. Rather, they go hand in hand: when we have a robust, consistent, predictable and fit-for-purpose regulatory regime, it instils confidence and trust in investors and market players, basing on which a vibrant innovative environment will be built.
Looking ahead
In taking forward Web3, virtual assets and other financial innovations, the Government will continue to strike the appropriate balance between regulation and facilitation. Rest assured that we are committed to building a favourable environment for our fintech firms to thrive and prosper.
Looking ahead, allow me to share some thoughts on what I think are important for the fintech development in Hong Kong.
First of all, let us bear in mind that fintech is not just about finance and technology. The success or otherwise of fintech, virtual assets or other Web3 applications in finance will be staked on whether new technologies, models and applications could actually serve the needs of the real economy; address pain points that have long existed; increase efficiency of transactions; create value and better experiences for the people; and, ultimately, work for the betterment of the community.
Indeed, innovation is commonly expected as a means to make financial services more accessible and inclusive. This is an area that we all need to work harder together. To this end, the Commercial Data Interchange, or CDI, launched by the Monetary Authority with a view to facilitating small and medium-sized enterprises to obtain loans from banks more effectively, is such a case in point.
Moreover, there is ample room to make use of fintech to contribute to high-quality development. You may be aware that in the Budget this year, I have pointed to greentech and green finance as a key direction of development. Web3 and blockchain technology can certainly help advance the development of green technology and green finance, such as issuing tokenised green bonds which I mentioned earlier. I truly look forward to more such innovation, and that is bound to capture tremendous opportunities as the world heads towards carbon neutrality.
Secondly, we need a deep pool of talent to support fintech. As you may know, we are taking forward in full swing various new initiatives to compete for talent to enrich and diversify Hong Kong's talent pool.
Meanwhile, to breed local talent, we also offer dedicated schemes that help financial services practitioners enhance their fintech literary platform. Specifically, we have been developing professional fintech qualifications applicable to the key financial services sectors, aiming to provide a clear ladder for new and incumbent practitioners to upgrade their fintech expertise. In my Budget this year, I have also set out a fintech internship scheme to cultivate fintech talent for post-secondary students now studying in Hong Kong and the bay area.
Concluding remarks
Every generation of technological reform breeds novel applications and fresh opportunities. Innovation does not come without risk. Rather than standing still, the real issue is how to control the associated risk and move forward steadily. Judging from the approach we have taken thus far, I have much confidence and optimism in Hong Kong's fintech future.
Financial Secretary Paul Chan gave these remarks at the FinTech Forum of the Digital Economy Summit 2023 on April 14.