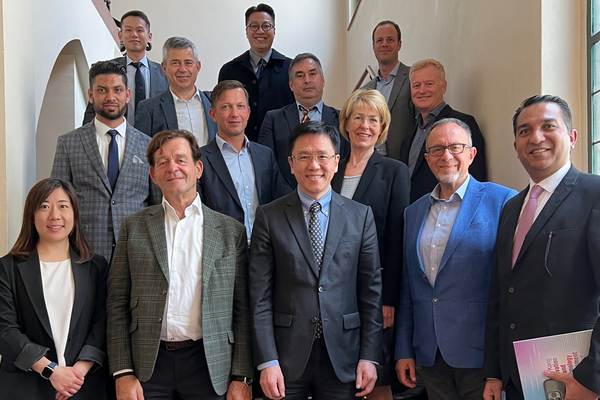 Continuing his visit to Switzerland, Secretary for Innovation, Technology & Industry Prof Sun Dong called on multinational pharmaceutical and healthcare companies Roche Group and Novartis in Basel yesterday.
In the morning, Prof Sun met Roche Group Head of Pharma International Padraic Ward for a briefing on the company's operation in pharmaceuticals and diagnostics pillars and latest technology in precision medicine. Noting that Hong Kong Science & Technology Parks and Roche had signed an agreement on strategic collaboration in January, he looked forward to seeing the scope of their collaboration expand and encouraged the group to enhance investment in Hong Kong.
Prof Sun held a meeting with Novartis Group (China) President Daniel Brindle in the afternoon to learn about the group's latest business developments in Greater China. As life and health technology is one of Hong Kong's key strategic industries, the group was welcomed to enhance its business investment as well as collaboration in research and development in Hong Kong.
During a luncheon with the management of local biotech companies, Prof Sun also invited those enterprises to visit Hong Kong this year to explore development opportunities.
He also called on Chinese Ambassador to Switzerland Wang Shiting in Bern and updated Mr Wang on the latest innovation and technology developments in Hong Kong.
Prof Sun will depart for Lausanne to continue his visit.