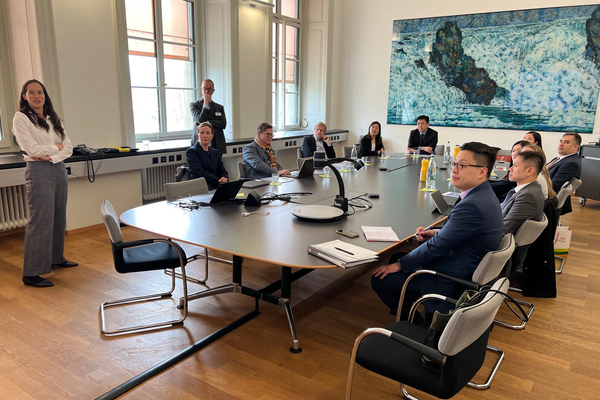 Secretary for Innovation, Technology & Industry Prof Sun Dong began his visit to Zurich, Switzerland, on April 26 by meeting the Greater Zurich Area (GZA) Chief Executive Officer and visiting ETH Zurich.
GZA is a national, non-profit service company that operates promotion and marketing for the great Zurich economic area which consists of nine cantons in the German and Italian-speaking parts of Switzerland with each of them contributing specific technological competencies to the entire economic area.
Prof Sun started the day by having a lunch meeting with GZA Chief Executive Officer Sonja Wollkopf to learn about the latest situation of attracting enterprises and investment, particularly in the innovation and technology (I&T) industry, in the area.
Prof Sun briefed her on the latest direction and strategies of Hong Kong's I&T development, and they explored opportunities for strengthening bilateral exchanges in I&T development between Hong Kong and Switzerland.
He then visited ETH Zurich, which is a pioneering public research university in Europe and worldwide with a world-class reputation in academia and industry, particularly in science and technology. It is also one of the non-local partners under the InnoHK research clusters.
In addition to receiving a briefing on the university's achievements in research discoveries and innovations and its support to entrepreneurship, he learnt about the operation of the Competence Center for Materials & Processes.
After visiting the Multi-Scale Robotics Laboratory to learn about its latest technologies in clinical treatment, Prof Sun had exchanges with Hong Kong graduates who are currently doing research at ETH Zurich about their school life.
He also presented them with new opportunities brought about by Hong Kong's I&T development and welcomed them to return to Hong Kong.
Prof Sun will proceed to the city of Basel on April 27 to continue his Switzerland visit.