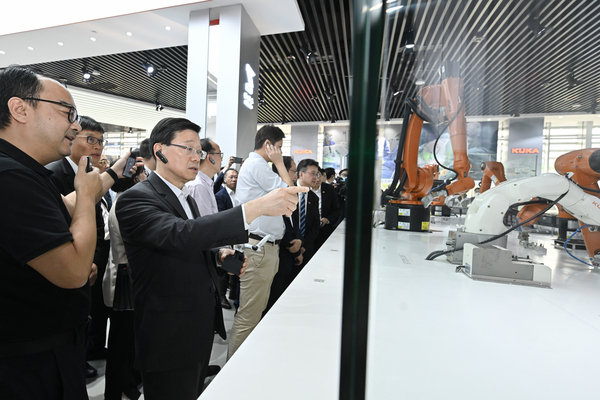 The Hong Kong Special Administrative Region Government and Legislative Council delegation led by Chief Executive John Lee today headed to Dongguan and Foshan as part of its visit to the Greater Bay Area.
In the morning, Mr Lee and the group of lawmakers led by LegCo President Andrew Leung toured the Dongguan Hong Kong International Airport Logistics Park jointly developed by the Dongguan Municipal Government and Airport Authority Hong Kong.
The Chief Executive was pleased to note that the two sides had entered into a co-operation framework agreement to implement and foster the long-term development of the "sea-air intermodal cargo transshipment" mode between Hong Kong and Dongguan.
After calling on Huawei's Ox Horn Campus to learn about the company's technological research achievements, Mr Lee attended a luncheon with Hong Kong business people in Dongguan.
The Chief Executive then departed for Foshan where he joined another group of lawmakers led by Chief Secretary Chan Kwok-ki and viewed the "city brain" system centre to find out more about Foshan's development in applying smart city management technologies.
Afterwards, the delegation visited KUKA Robotics to learn about the research and production processes of industrial robots.
During their trips to Dongguan and Foshan, the two groups of LegCo members separately visited Modern Dental Technology, Huayang Lake Wetland Park and Jianyuzhou Cultural & Creative Park in Dongguan as well as Guangdong Bright Dream Robotics, Lingnan Tiandi, and the Ancient Nanfeng Kiln in Foshan.
Mr Lee and the delegates also attended a dinner hosted by Chinese People's Political Consultative Conference Guangdong Provincial Committee Vice Chairman and CPC Foshan Municipal Committee Secretary Zheng Ke; and Foshan Municipal Government Mayor Bai Tao.
With Hong Kong's rich experience in commerce, logistics and management, the Hong Kong SAR Government will continue to promote and strengthen the collaboration in different industries with bay area Mainland cities, the Chief Executive noted.
The delegation will spend its last day of the trip in Guangzhou tomorrow.