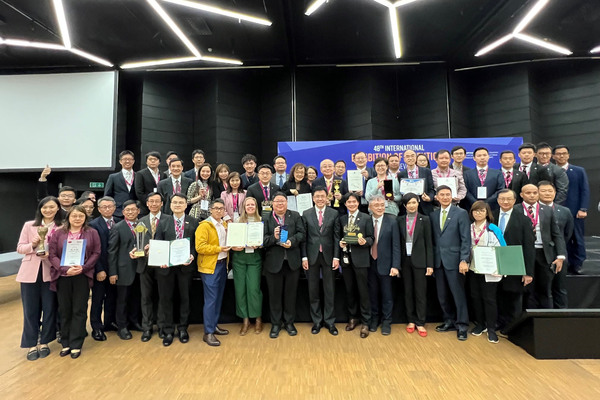 Secretary for Innovation, Technology & Industry Prof Sun Dong congratulated a Hong Kong delegation for achieving outstanding results at the Geneva International Exhibition of Inventions 2023 in Switzerland.
 
The Hong Kong delegation won a record number of grand and special prizes as well as gold medals, including two grand awards, namely Prize of the State of Geneva and Prize of the International Federation of Inventors' Association, eight special awards and about 30 gold medals with Congratulations of Jury.
 
Prof Sun made the trip to Geneva yesterday afternoon to join the award presentation ceremony and support the Hong Kong delegation in person.
 
The delegation, comprising close to 500 representatives from universities, research and development centres, research laboratories, technology companies, government departments, and primary and secondary schools, participated in the Geneva International Exhibition of Inventions 2023, in which Hong Kong's innovation and technology (I&T) community presented a record high 293 projects in total.
 
Prof Sun also spoke at a Hong Kong reception at the exhibition hosted by the Hong Kong Special Administrative Region Government.
 
In his welcoming remarks, the technology chief noted that the Hong Kong delegation's participation in the exhibition is the best testimony demonstrating to the world that Hong Kong is back on the world stage.
 
He briefed close to 500 guests on Hong Kong's latest I&T development with the prime focus on further enhancing our I&T ecosystem and promoting interactive development of the upstream, midstream and downstream sectors.
 
He said this term of Government is also making all-out efforts on promoting the industry development, in particular those with an edge and of strategic importance, emphasising that Hong Kong is making good progress in attracting Mainland and overseas tech companies to set up or expand their businesses here after months of hard work.
 
"My trip this time also serves to send a clear message to the tech companies here in Europe that we welcome them to expand or set up operations in Hong Kong where they can find boundless business opportunities brought about by the seamless access to the gigantic market in the Greater Bay Area, and of course the Mainland market."
 
At the reception, Prof Sun witnessed the signing of the memorandum of understanding between the Hong Kong Exporters' Association and PALEXPO SA, which are scheduled to host the Asia Competition & Exhibition of Innovations & Inventions once again in Hong Kong this December.
 
In the morning, while in Lausanne, Prof Sun visited a startup focusing on developing topical ophthalmic treatments, and received a briefing on the company's latest technology in treatments and business development plan in Hong Kong.
 
Later in the day, he toured the École Polytechnique Fédérale de Lausanne to learn about the institution's programmes for turning innovative ideas and technologies into startups and operation of Innovation Park at Innovation & Tech Transfer. He also toured the Laboratory for Experimental Museology in St. Sulpice.