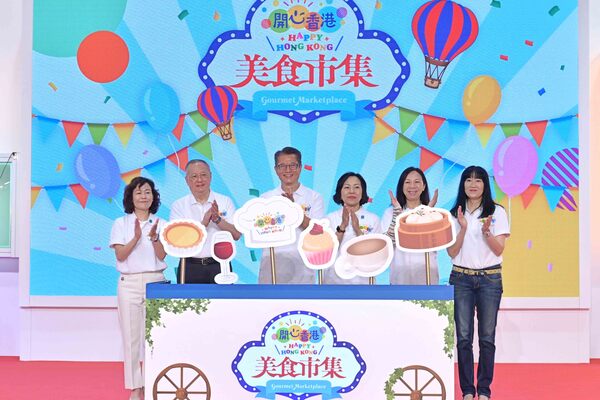 Financial Secretary Paul Chan today officiated at the opening ceremony of the first "Happy Hong Kong" Gourmet Marketplace together with Secretary for Home & Youth Affairs Alice Mak.
At the inauguration, Mr Chan pointed out that after the full resumption of normal travel between Hong Kong and the Mainland as well as overseas regions, the market has become more lively and vibrant.
Apart from saying that he hopes the public can find joy in their daily lives as the economy improves, he explained that the "Happy Hong Kong" Gourmet Marketplaces organised by the Government seek to offer a good experience for people and enable them to experience joy and share in the fun together.
While addressing guests at the ceremony, Mr Chan thanked the Home & Youth Affairs Bureau and the Home Affairs Department for their efforts in co-ordinating the event.
The first "Happy Hong Kong" Gourmet Marketplace, slated for today and tomorrow, is taking place at the Convention & Exhibition Centre in Wan Chai.
In addition to featuring more than 100 booths that offer international delicacies, Chinese cuisine and a variety of local flavours, the marketplace includes performances and children's games.
The second gourmet marketplace will take place on May 6 and 7 at the Sha Tin Town Hall Plaza and Sha Tin Park, while the third one will be held on June 3 and 4 at the Kwun Tong Promenade's VESSEL.
Both events offer free entry and do not require admission tickets.