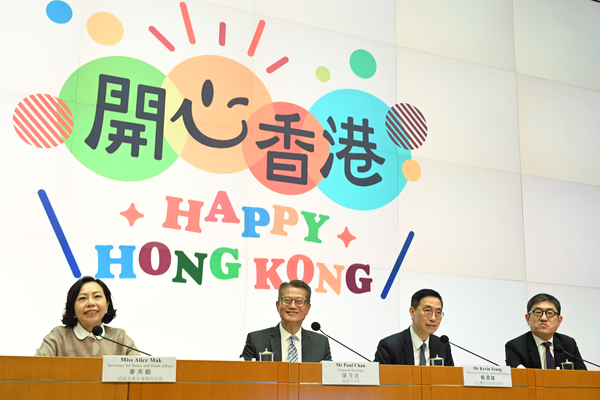 The Government today announced the launch of "Happy Hong Kong", a campaign that comprises gourmet marketplaces, carnivals, popular culture and various sports and musical activities.
Unveiling the campaign's details this afternoon, Financial Secretary Paul Chan emphasised that such activities aim to inject a positive spirit into the community.
"For the 'Happy Hong Kong' Campaign, in addition to trying to stimulate private consumption and sustaining economic recovery, we also want to take this opportunity to inject a more happy and positive spirit into our community."
A total of three gourmet marketplaces will be held in April, May and June with different themes that include youth elements, cooking demonstrations, performances and children's playgrounds.
The first event will take place at the Convention & Exhibition Centre in Wan Chai on April 29 and 30. Free admission tickets will be distributed starting at 8am on April 26 at the Home Affairs Enquiry Centres in the 18 districts.
While each person may collect up to two tickets, the department will reserve some admission tickets for distribution at the actual venue when the event is held.
The second bazaar will be held on May 6 and 7 at Sha Tin Town Hall Plaza and Sha Tin Park, followed by the third one on June 3 and 4 at the Kwun Tong Promenade's VESSEL.
A cinema day will also take place on April 29 as part of the campaign. Audiences can enjoy films in cinemas at $30 per ticket on that date.
Mr Chan explained that the "Happy Hong Kong" campaign idea was hatched as a result of the challenges society faced over the past three years during the COVID-19 outbreak. He also stressed that he hopes the activities will boost people's spirits.
"When people can come out with their friends or families to join different activities – particularly those activities that are free of charge – I think hopefully that would bring back a more positive sentiment and happy experience for the people of Hong Kong."