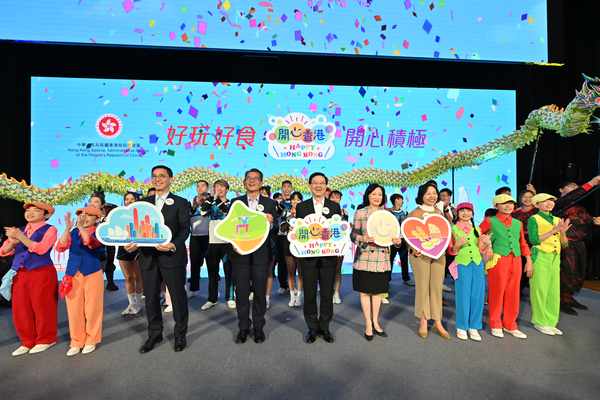 Chief Executive John Lee today officiated at the "Happy Hong Kong" Campaign Launch Ceremony with other government officials to unveil a series of exciting activities.
Speaking at the launch ceremony, Mr Lee said the campaign offers a diverse range of activities that are suitable for people of different backgrounds, ages, and interests, adding that he hoped the public would fully enjoy the activities and feel the joyful effect of the campaign events.
Also speaking at the launch ceremony, Financial Secretary Paul Chan noted Hong Kong is at the early stage of economic recovery, and that the relaxed and joyful atmosphere brought by the campaign will help generate greater positive energy and stimulate local consumption and the economy.
The campaign's inaugural event will be the first gourmet marketplace at the Convention & Exhibition Centre this weekend which will feature a variety of food themes and will include youth elements, cooking demonstrations, performances and children's games.
Cinema Day will also be held tomorrow, when the public can enjoy movies at a discounted price of $30 at theatres.
The Government announced last Monday that it would collaborate with various participating organisations over the next 10 months to hold a series of gourmet marketplaces and carnivals, providing the public with diverse, fun and interesting activities to bring joy to the community while also stimulating local consumption and the economy.
A range of agricultural and fisheries festivals are scheduled to take place across multiple districts, including Tsing Yi, Lok Fu, Yuen Long and Mong Kok.
During the summer holidays, the Tourism Board will host a large-scale sea-land carnival, with Victoria Harbour as the grand stage for music concerts.
Click here for the latest campaign updates.