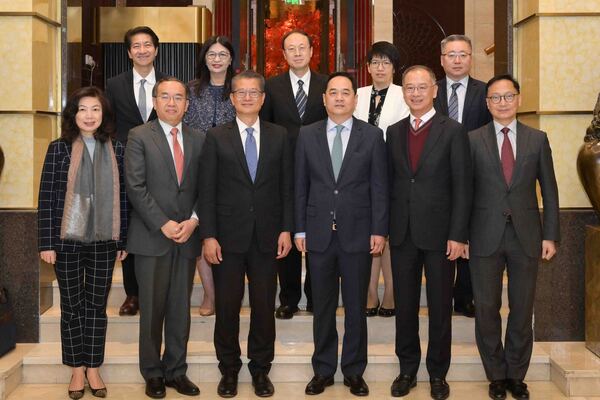 Financial Secretary Paul Chan wrapped up his tour of Beijing today by visiting the State Council's Hong Kong & Macao Office (HKMAO), the China Banking & Insurance Regulatory Commission (CBIRC) and the Beijing Stock Exchange (BSE).
This morning, Mr Chan met CBIRC Vice Chairman Xiao Yuanqi and Vice Chairwoman Cong Lin.
Mr Chan highlighted Hong Kong's latest financial development situation and thanked the CBIRC for the continuous support to the city on consolidating and enhancing Hong Kong's status as an international financial centre and strengthening its role as an offshore renminbi business hub and risk management centre.
Both parties discussed stepping up regulatory co-operation and deepening mutual access between Mainland and Hong Kong financial markets.
Mr Chan then called on HKMAO Deputy Director Yang Wanming.
The financial chief said that the recent visit to Hong Kong by HKMAO Director Xia Baolong had reached deeply into different levels of people and areas of the city and aroused strong interest and positive responses in the community.
He noted that the Hong Kong Special Administrative Region Government will continue to spearhead economic development and improve people's livelihoods in this new era and new stage, and will give full play to Hong Kong's strengths to contribute to the nation's development in areas such as finance and economic development.
In the afternoon, Mr Chan toured the BSE to learn about its services including financing developments for innovative small and medium-sized enterprises and the issuing of sovereign bonds and local government bonds.
He met and exchanged views with BSE Chairman Zhou Guihua and Beijing Municipal Government financial officials to discuss stepping up mutual co-operation.
Secretary for Financial Services & the Treasury Christopher Hui also joined the visit.
Mr Chan will return to Hong Kong this evening.