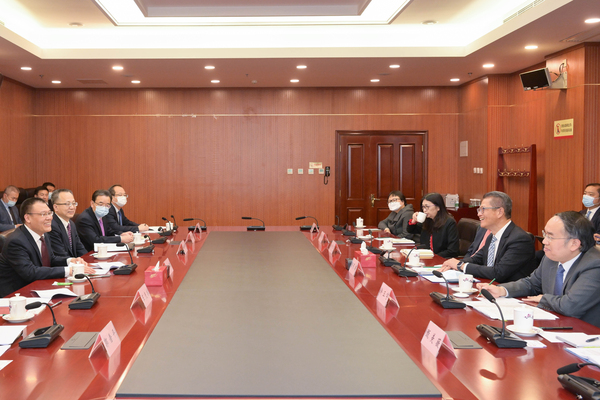 Financial Secretary Paul Chan today continued his tour of Beijing where he called on officials from various central ministries.
Mr Chan first visited the Office of the Central Commission for Financial & Economic Affairs and met Deputy Director Liao Min to exchange views on the economic and financial development of the country and Hong Kong.
He pointed out that Hong Kong is creating a strong impetus of growth and strengthening the synergy and co-operation among sister cities of the Guangdong-Hong Kong-Macao Greater Bay Area, so that Hong Kong can contribute to the high-quality development of the country.
He added that Hong Kong's financial market has been developing in a safe and orderly manner amid the fluctuating external environment of the past three years.
Later in the afternoon, Mr Chan met People's Bank of China Governor Yi Gang and discussed matters that include supporting the development and mutual access between Mainland and Hong Kong financial markets, deepening the development of an offshore renminbi hub and strengthening co-operation on green and sustainable finance.
During a meeting with Vice Minister of Finance Wang Dongwei, Mr Chan thanked the ministry for continuing to issue Renminbi Sovereign Bonds in Hong Kong and supporting the development of Hong Kong as an international financial centre.
Additionally, he pointed out that Hong Kong actively aligns with the national development strategies in the hope of taking advantage of its role as a top international fundraising platform and supporting the prudent promotion of the internationalisation of the renminbi.
Both parties also exchanged views on issues comprising strengthening audit oversight co-operation and international tax co-operation.
The Financial Secretary then visited the Ministry of Commerce and met its vice minister Guo Tingting. He stressed that to align with national development strategies, Hong Kong is making every effort to join the Regional Comprehensive Economic Partnership, as well as expanding its free trade network, so as to contribute to regional economic co-operation and development.
He emphasised that Hong Kong will fully leverage its role as an international financial centre and a high-level professional services platform, to contribute to the high-quality development of the Belt & Road Initiative.
The finance chief also delivered a speech at Peking University's Guanghua School of Management in the evening.