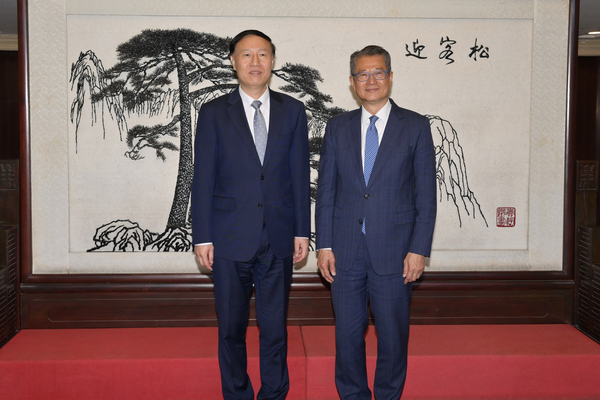 Financial Secretary Paul Chan started his visit to Beijing today by calling on the State Council's State-owned Assets Supervision & Administration Commission and meeting its Vice Chairman Zhao Shitang.
During the meeting, Mr Chan introduced the latest developments of Hong Kong's economy and society, saying that the city is forging a better integration of a proactive and capable government and an efficient market to attract and pool enterprises and talent with high quality.
He added that with innovation and technology as a major key and its financial advantages as strengths, Hong Kong will fully contribute to the high-quality development of the country, especially to the high-level self-reliance and greater strength in science and technology and the development of a dual circulation economy.
To tie in with the continued promotion of national development strategies and the Belt & Road Initiative, Mr Chan noted that Hong Kong welcomes central and state-owned enterprises to make full use of its fundraising platform and professional services as a foothold to expand and further develop their international business, including spinning off overseas businesses for listing in Hong Kong, issuance of bonds, and setting up overseas business headquarters, corporate treasury centres and captive insurance companies in the city.
The finance chief also met Ministry of Human Resources & Social Security Vice Minister Li Zhong and others to exchange views on the development experiences of retirement pension systems on the Mainland and in Hong Kong.
Mr Chan indicated that Hong Kong's financial market and services can help with asset allocation in respect of the investment of the Mainland's pension system.
He then toured a web technology company where he introduced the Hong Kong market's advantages and the latest policies for attracting enterprises and investment, and encouraged them to expand their business in Hong Kong.
Secretary for Commerce & Development Algernon Yau also joined the visit.