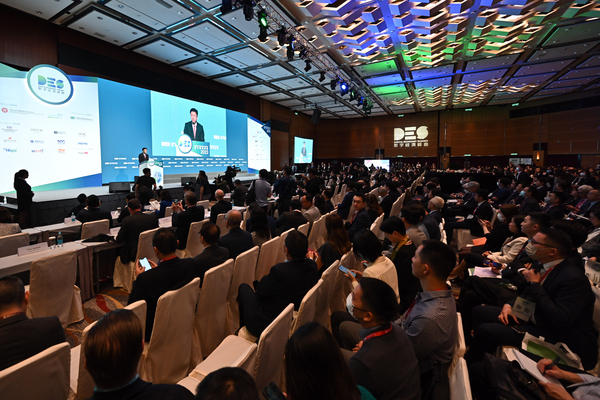 The two-day Digital Economy Summit (DES) opened today at the Convention & Exhibition Centre, and it is expected to draw a record attendance of more than 4,800 people from around 40 countries or regions.
Chief Executive John Lee officiated at the summit's opening ceremony and gave the opening remarks.
Themed "Emerging with Resilience: Fostering a Smarter Future", the 2023 summit gathered over 100 renowned technology visionaries, industry pioneers, business leaders and government officials from home and abroad, to present and exchange insights on various innovation and technology (I&T) topics.
The summit features eight thematic forums and symposium, examining a wide array of trending I&T topics involving the integration of traditional and new economies, smart city, digital government, fintech, Web3, new industrialisation as well as smart mobility.
At the Visionary Forum held today, global tech giants and prominent industry experts enlightened the audience on how the exponential growth of future technology in smart city, 5G, artificial intelligence and big data, digital finance, smart mobility and more defines the new normal of smart economies.
In the afternoon, the summit presented the Chambers Forum, the Smart City Forum and the Digital Government Symposium. The three parallel sessions examined how enterprises integrate technologies to transcend business models, capitalisation of the opportunities of smart city clusters in the Greater Bay Area as well as the acceleration of digital government transformation.
Financial Secretary Paul Chan will deliver opening remarks at the FinTech Forum tomorrow. 
Prominent industry experts and trailblazers will delve into the potentials of Web3 and virtual assets in reshaping the digital economy and enlighten audience members on upcoming I&T trend.
DES attendees can also visit the concurrent InnoEX jointly organised by the Government and the Trade Development Council, for a premier showcase of smart city innovations and global I&T solutions.
Resuming for the first time since the pandemic, the summit is jointly organised by the Office of the Government Chief Information Officer and the Cyberport.