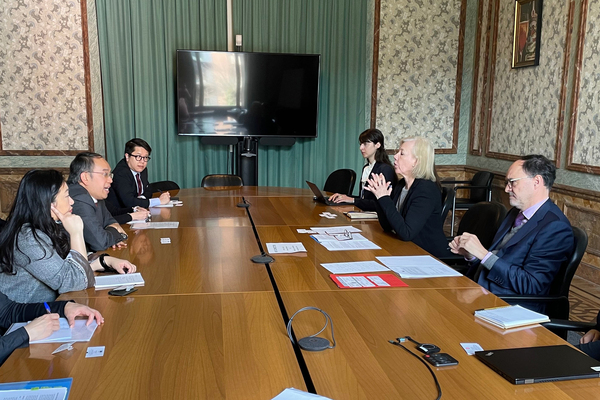 Secretary for Financial Services & the Treasury Christopher Hui continued his visit to Brussels on April 14 by meeting European Commission and Belgian financial services officials as well as attending a Hong Kong film promotion event.
At a meeting with European Commission Director for Direct Taxation, Tax Coordination, Economic Analysis & Evaluation, DG TAXUD (Directorate-General for Taxation & Customs Union) Benjamin Angel, Mr Hui reiterated Hong Kong's commitment to upholding the prevailing international tax requirements against cross-border tax avoidance and working closely with the European Union (EU) in tackling harmful tax practices.
On the foreign-sourced income exemption regime which took effect in January in Hong Kong, Mr Hui said he was pleased that the EU considered the new regime fully in compliance with their requirements with regard to dividends, interest and intellectual property income.
Meeting the commission's Deputy Director-General for Financial Stability, Financial Services & Capital Markets Union Alexandra Jour-Schroeder, Mr Hui outlined Hong Kong's efforts in promoting fintech as well as green and sustainable finance, as both the EU and Hong Kong are pioneers in the related fields.
The financial services chief also met Belgian Financial Services & Markets Authority Deputy Chairman Annemie Rombouts to exchange views on the increasing importance of international co-operation among financial market supervisors and shared experience in effective supervision while facilitating business growth.
He then called on Chinese Ambassador to Belgium Cao Zhongming, briefing Mr Cao on Hong Kong's efforts in integrating into the national development.
At the Brussels International Fantastic Film Festival's Hong Kong Film Night, Mr Hui gave welcoming remarks at the reception, noting that one of the Hong Kong Special Administrative Region Government's priorities is to develop the city into an East-meets-West centre for international cultural exchange, adding that it strongly supports the creative industries including the film industry.
Mr Hui will visit Belgium's second largest port, the Port of Zeebrugge, before concluding the trip.