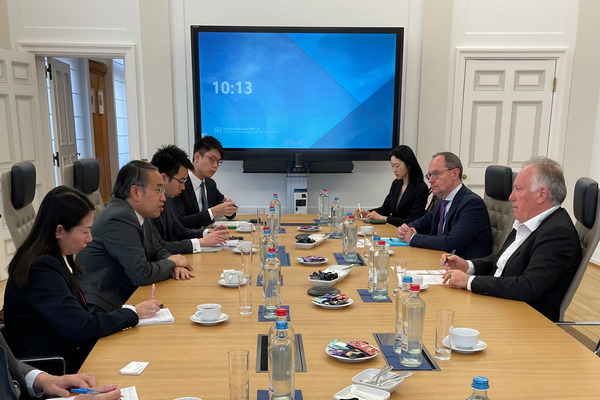 Secretary for Financial Services & the Treasury Christopher Hui met financial leaders and promoted Hong Kong's strengths in fintech and green finance at a high-level dialogue event in Brussels as he began his visit to Belgium on April 13.
 
Speaking at the High-level Dialogue & Dinner – Hong Kong's Unique Position as the Green Finance & Fintech Capital of Asia, Mr Hui shared with the participating financial stakeholders that in 2022, green and sustainable debts arranged or issued in Hong Kong amounted to over US$80.5 billion.
 
He added that the US$101 million tokenised green bond issued by the Hong Kong Special Administrative Region Government in February this year, the first of its kind released in the world by a government, could further entrench the awareness of sustainability issues in combination with technology.
     
The treasury chief also mentioned that Hong Kong's policy statement on the development of virtual assets in the city, published in October last year, set out the policy stance and approach for virtual asset innovations to thrive in a sustainable manner.   
     
Noting that both the European Union (EU) and Hong Kong are pioneers in green finance, Mr Hui said the city looks forward to collaborating with the EU to promote a better, greener world by making use of technology.
     
Earlier yesterday, Mr Hui met National Bank of Belgium Director Tom Dechaene and Research Department Head Xavier Debrun to exchange views on the latest financial developments in both places as well as share information about Hong Kong's financial regulatory regime for maintaining a stable market.  
     
During the day, Mr Hui visited FIRe Innovation Hub, the major hub in the heart of Brussels dedicated to digital finance including fintech, insurtech and regtech.
 
The visit was arranged by Fintech Belgium, a body that aims to foster partnerships with companies involved in the financial services industries.
 
Mr Hui also paid a courtesy call on Charge d'Affaires ad Interim of the Chinese Mission to the EU Wang Hongjian.