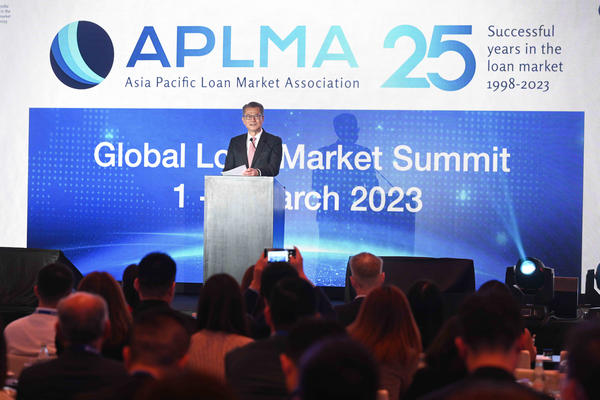 While we have now fully returned to normalcy and resumed full connectivity with the Mainland and the world, we must realise that the recovery is still at an early stage. There is still much to be done. And the external environment remains challenging, the reality of which is aptly captured by the line of today's summit: lower growth, higher rates and a geopolitical crisis.
It is true that Hong Kong is a small, open and externally oriented economy. We are highly susceptible to external volatility. Not to mention the financial markets, loan markets included of course. But I am also proud to report that the Government's financial position, as well as Hong Kong's financial system, have displayed remarkable resilience throughout these testing times. Our country's unflinching support to us further underpins and adds to our confidence. And I know that Eddie (Yue) will have more to share with you on our manifold strengths in banking, and finance generally, in just a few minutes.
Reinforcing and accelerating economic recovery is certainly a priority for Hong Kong, and that is one of the main themes of the Budget that I announced last week. This is why we have adopted a slightly expansionary fiscal stance with, still, a deficit Budget this year. We want to put resources to support members of the public at large and SMEs (small and medium-sized enterprises), to the best of our ability. Let us not forget that only when they thrive could our economy truly prosper. 
Another theme in the Budget is our vision to drive our economy to high-quality development. Allow me to take a few minutes to explain a few of the key development areas which are of interest to you and the financial sector.
Vision on GreenTech, GreenFi
First, our vision to position Hong Kong as the leading international centre for GreenTech and GreenFi.
In the past few years, with favourable policies by the Government and the endeavours of our financial services sector – including, of course, APLMA (Asia Pacific Loan Market Association) in helping with setting benchmarks for the market – Hong Kong has much success in green and sustainable financing, channeling capital investments and bridging loan markets. The market will keep growing in the time to come. Fully embracing innovation under Web3, two weeks ago, the HKMA (Hong Kong Monetary Authority) successfully issued a tokenised green bond, the first of its kind issued by a government globally.
But our vision does not stop with financing green and transition projects. The world is racing towards reducing carbon emissions. For instance, our country has set out its 3060 targets, that is, halving its carbon its emission by 2030 and achieving zero emission by 2060. This has created a huge demand for pertinent technological and innovative solutions, ranging from environmental engineering, carbon sequestration, to the production of more environmentally friendly products. Statistics indicate that the global market of green technology would reach more than US$410 billion by 2030, more than 11 times the figure in 2021.
Hong Kong has great potential in this regard: we have a booming circle of Green Tech underpinned by passionate startups and innovators. In our Science Park alone, there are more than 100 greentech companies, and some of them have already attracted overseas investments and captured their markets. Our sister cities in the Greater Bay Area (Guangdong-Hong Kong-Macao Greater Bay Area) are no less vibrant in this respect.
Our vision is this: to bring together the growing and mature market of green financing and the green technology sector so that they can form a symbiotic relationship, which will better support cycles of R&D (research and development), product commercialisation and mass production as well as a complete and vibrant industry chain.
I am confident that this vision will inspire a new round of development in green financing, including bonds and lending.
Web3 and fintech
Another highlight is our commitment to spearhead the development of Web3. While many come to know Web3 through virtual assets (VAs), there is boundless potential for this technology and its application. For virtual assets, Hong Kong is determined to provide a right environment for their sustainable and responsible development.
Since we issued a policy statement on VAs, it was greeted by the market with enthusiasm. Over the past few months, an encouraging number of innovative companies in the sector have enquired about setting up their business in Hong Kong, showing their willingness to prosper under an internationally trusted regulatory regime.
Indeed, the regulatory structure for VAs in Hong Kong is taking shape. The licensing regime for VA service providers will come into effect in June this year. And earlier, in January, the HKMA shared its plans on the regulation of stablecoins. We feel it is now the opportune time to look at the sector from a more developmental perspective. That is why I announced in the Budget the setting up of a task force on VA development to explore the path and opportunities ahead, with due regard to the risks involved.
Just as we are keen on spurring innovation in the financial and other sectors, may I remark that our promising startups in the technology sector often need timely access to funding. At our end, the Government has been creating a vibrant venture capital and private equity clusters to provide funding to startups and growing companies; while the Science Park and Cyberport also provide a range of seed funding, investor matching, as well as professional services support to them. All with a view to growing a dynamic I&T (innovation and technology) ecosystem. I hope that, banks and lenders will also work with us together to facilitate more convenient lending to startups.
Government bonds
Finally, allow me to turn to a subject in which I think you may all be interested. In this Budget, I propose that we make good use of the room for issuing bonds to support and expedite economic development, in particular investment in infrastructure projects. In each of the next five years, it is our plan to issue bonds worth about $65 billion. They will cover both green bonds on an expanded scope, and a brand new infrastructure bond programme.
Our Government Green Bond Programme has achieved considerable success since its launch. We will expand the scope of the programme to cover sustainable projects. For infrastructure bonds, it will help us better manage the cash flow requirements of infrastructure projects to ensure their timely implementation. Indeed, our capital works programme for the next five years would average over $100 billion a year. Their early completion can only benefit the economy and our community.
Please let me make a few points clear about bond issuance. First, Hong Kong's debt to GDP (gross domestic product) ratio is currently very low, at just about 4%. Under our bond issuance programme, by the end of the five-year period, that is, 2027-28, our debt to GDP ratio will still be at a relatively low level of 9.5%. This is far lower than the figure in many advanced economies. And the fiscal reserve of the Government by then will stand at about $950 billion, equivalent to about 14 months of government expenditure.
Second, we will adhere to strict fiscal discipline. Proceeds from the bonds will be used only to finance our infrastructure and public works projects. None of such proceeds will be used for funding our recurrent expenditure.
Third, we bear in mind the need of financial inclusion in the issuance of infrastructure bonds. Like retail green bonds, we will seek to open bond subscriptions to members of the public so as to allow our fellow residents to have more investment options with steady returns.
And in this connection, I also plan to issue no less than $50 billion of Silver Bond and $15 billion of retail green bonds in the coming financial year. This would also be beneficial to the development of the bond market.
Closing remarks
In the Budget, I have also set out different measures that will help consolidate and reinforce the status of Hong Kong as an international financial centre (IFC). We will continue to widen the mutual access scheme between the Mainland and Hong Kong, further enhancing the competitiveness of our listing platform as well as further developing our asset and wealth management sector. A more vibrant IFC of Hong Kong with deeper liquidity and a broader range of products and services would definitely mean more opportunities for the sector, including of course those engaged in the loan markets. Hong Kong is indeed a market full of opportunities and promise.
Financial Secretary Paul Chan gave these remarks at the Asia Pacific Loan Market Association Global Loan Market Summit on March 1.