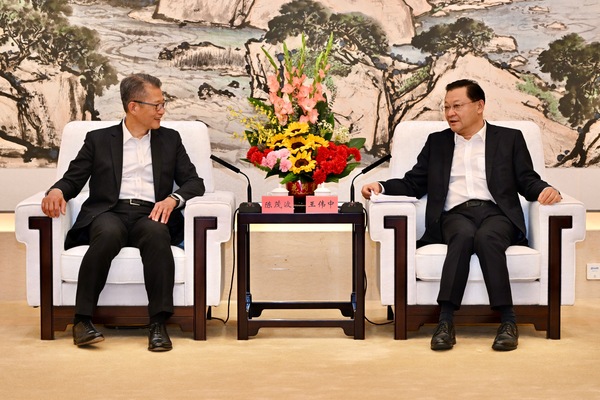 Financial Secretary Paul Chan today visited Guangzhou to meet Guangdong and Guangzhou leaders and discuss the deepening of co-operation to speed up the high-quality development and economic integration of the Greater Bay Area.
During the meetings, Mr Chan said that this year's "two sessions" were in the year marking the beginning of achieving Chinese modernisation, in which "firmly grasping the top priority task of high-quality development" was emphasised. In the process of advancing from stability to prosperity, Hong Kong will actively pursue high-quality development and create strong impetus of economic growth through innovation and technology (I&T) development.
He pointed out that his recently announced Budget has put up directions of high-quality development. Apart from developing the digital economy, the third generation Internet and international green technology and financial centre, such directions also include advancing on artificial intelligence and biotechnology.
The finance chief added that there is much room for strengthening co-operation between Guangdong and Hong Kong to further promote bay area development. Leveraging the advantages of  the "one country, two systems" principle, under which Hong Kong enjoys strong support from the motherland and close connection to the world, and joining hands with the Guangdong Province on areas such as finance, I&T, green economy and low-carbon transition, Hong Kong will build a world-class and high-quality bay area with Guangdong.
In the course of his trip, Mr Chan visited Hema Network Technology where he was briefed on how the company has accelerated the delivery of fresh food and products through applying big data, artificial intelligence and technology in logistics; and the use of facial recognition systems for payment.
He also met a group of Hong Kong young entrepreneurs living in Guangzhou. Such entrepreneurs, engaged in finance, creative industries, technology, fashion, food and social services, shared their experience concerning the opportunities and development potential in the Mainland and the challenges they encountered in starting their own businesses.
Mr Chan expressed appreciation for their perseverance and mutual help rendered to each other, and made it clear that the Hong Kong Special Administrative Region Government will continue to support young people to develop careers and establish businesses in the bay area.