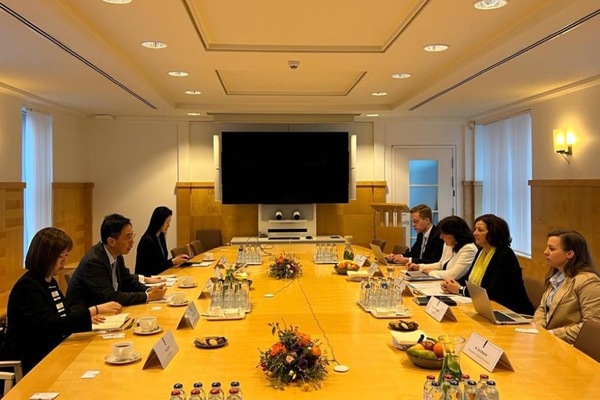 Secretary for Culture, Sports & Tourism Kevin Yeung today started his visit to Amsterdam and The Hague in the Netherlands.
Mr Yeung met Dutch Minister for Long-term Care & Sport, Ministry of Health, Welfare & Sport Conny Helder, and Dutch Director-General of Culture & Media, Ministry of Education, Culture & Science Barbera Wolfensberger to explore opportunities for strengthening exchanges in culture and sports.
He briefed them on Hong Kong's situation after returning to normalcy, the latest cultural and sports developments, and the opportunities brought about by Hong Kong's position as an East-meets-West centre for international cultural exchange under the National 14th Five-Year Plan.
Mr Yeung highlighted the success of recent international events in Hong Kong, including Art Basel Hong Kong, Art Central, the Museum Summit, the World City Championship, and the 16th Asian Film Awards. Bringing industry leaders from all over the world, these events are a testament to Hong Kong's strengths as an events capital, he noted, adding that the momentum will continue into this weekend's Hong Kong Sevens.
The culture chief called on Chinese Ambassador to the Netherlands Tan Jian in The Hague yesterday.