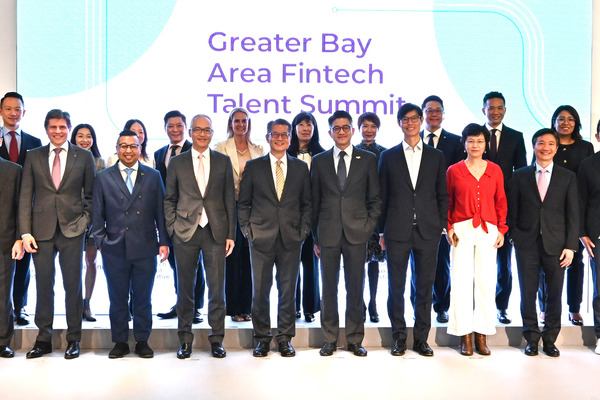 Let us take a moment to understand where we stand. I am pleased to report that Hong Kong has made significant progress in the development and application of fintech. We need not look far to see the vibrancy of our sector. The Faster Payment System (FPS), electronic wallets, mobile payment platforms are all very popular in Hong Kong, and they are catalysing changes in business models. For example, more sales are done online. In 2022, the value of retail sales in respect of online sales alone reached more than $34 billion, which represents an increase of 21% compared to that of 2021.
Indeed, the fintech landscape in Hong Kong is incredibly diverse and dynamic. We are now home to over 800 fintech companies and startups, offering a wide range of innovative services such as mobile payments, cross-boundary transfers, intelligent financial consultancy, wealth management, virtual asset trading and blockchain. We were the pioneers in issuing virtual bank and virtual insurance company licences. Currently, we have eight such banks and four such insurance companies.
Behind our vibrancy
This vibrant and diverse fintech ecosystem is a testament to the fundamental strengths of our city. Under "one country, two systems", Hong Kong's internationally-aligned regulatory regime and business-friendly environment are well trusted by investors and businesses around the world. We have free capital inflows and outflows with no exchange control. These have made Hong Kong one of the freest markets for fintech companies to grow and conduct cross-boundary operations.
Over the past years, the Government has been highly proactive in facilitating fintech development. Since 2016, we have put in place regulatory sandboxes, allowing fintech startups to test and experiment with innovative products or services without the need to achieve full compliance with certain supervisory requirements. Our regulators monitor activities, assess risks, and evaluate outcomes while providing startups with the necessary space to develop their projects.
The Government has also rolled out a range of funding schemes to support fintech development. At the same time, Cyberport and Science Park offer a variety of seed funding, investor matching, and professional services to startups in the fintech industry. Hong Kong also boasts a thriving private equity and venture capital sector that channels funds to support fintech startups.
Promise of Greater Bay Area
Meanwhile, we all know that the Greater Bay Area (GBA) is a huge market for our fintech sector to tap. The GBA's 87 million affluent population and economic vibrancy will provide vast opportunities, ranging from product development and distribution, to asset management and services. Moreover, innovation centres in the bay area, such as Shenzhen, are leaders in fintech development and application. By collaborating with our sister cities in the GBA, we can create a synergy effect that presents immense potential for further fintech innovation.
To this end, we have been collaborating with our counterpart regulators, through regulatory sandboxes, to encourage pilot trials of cross-boundary fintech projects concurrently in Hong Kong and the bay area.
Looking ahead
Simply put, there are very promising prospects for Hong Kong and the GBA in fintech. We are committed to leveraging this unique ecosystem to drive our fintech development forward. Looking ahead, it is crucial that we continuously enhance ourselves in the fast-paced world of fintech, where opportunities are boundless and yet competition is fierce and intense. Let me highlight some of the initiatives we are pursuing in this regard.
First, we will continue to enhance our fintech infrastructure. An example is the launch of the Commercial Data Interchange, or CDI, by the Hong Kong Monetary Authority (HKMA) in October last year. The CDI allows sharing of different commercial data on a consent basis that will help small and medium-sized enterprises to obtain loans from banks more effectively. On top of this, the Government will soon operate a data exchange gateway linking the CDI. By then, with authorisation from clients, financial institutions can access their data held by the Government to better facilitate credit assessments. New business cases are also bound to emerge.
Another example is extending the use of our FPS in cross-boundary settings. The FPS has been supporting trials of cross-boundary e-CNY (digital renminbi) payment. Meanwhile, as I announced in the recent Budget, the HKMA is also collaborating with the Bank of Thailand to explore the possibility of allowing visitors to use Hong Kong's FPS and Thailand's PromptPay for local payments.
Second, we will embrace Web3, the third generation of the World Wide Web. Web3 provides a decentralised, disintermediated, secure, transparent, low-cost, and efficient environment for transactions. That provides a vast opportunity for new business cases. Virtual assets (VAs) are an integral part of Web3, and we are open and inclusive towards the global community of innovators engaged in VA businesses. To create a favourable environment for VA innovators to thrive, we are establishing a consistent, predictable, and clear regulatory framework with due regard to the risks involved. A licensing regime for VA service providers will take effect in June this year. We are also studying the regulation of stablecoins. To chart the sustainable and responsible development of the VA sector, I will establish a dedicated task force.
Third, we will also step up efforts to deepen our talent pool. This will ensure a steady stream of talent to support the growth and success of the fintech industry. Over the past few years, the Government and regulatory bodies have launched a range of initiatives to this end. To further nurture fintech talent, in the Budget this year, I announced the rollout of a fintech internship scheme for post-secondary students. This programme will subsidise students to take part in fintech internships in Hong Kong and the GBA to acquire work experience with fintech companies, helping them develop an early interest in pursuing fintech careers following graduation.
Closing remarks
Students, before I close, let me make one remark. As you may embark on your careers in fintech, please bear in mind that fintech is not just about finance and technology. By lowering transaction costs and providing innovative solutions, fintech can help businesses to address their "pain points", improve financial accessibility for enterprises and individuals, and promote financial inclusion. Please remember that you can make a difference and bring a positive impact on the industry and beyond.
Financial Secretary Paul Chan gave these remarks at the Greater Bay Area Fintech Talent Summit on March 9.