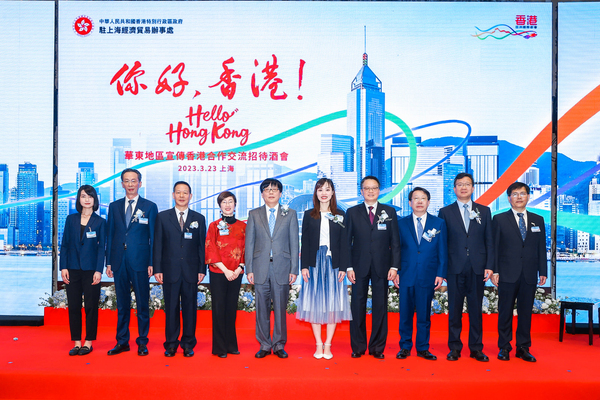 The Hong Kong Economic & Trade Office in Shanghai held a "Hello, Hong Kong!" East China Region Reception in Shanghai today to highlight Hong Kong's new attractions and opportunities, which was attended by about 600 guests.
In a pre-recorded speech played at the reception, Chief Executive John Lee said Hong Kong, which is resuming full normalcy after three years of the epidemic, has resumed normal travel with the Mainland and reconnected with the rest of the world with the full support of the central government.
Noting that Hong Kong and the East China region have always been closely connected and economically integrated, he said Hong Kong warmly welcomes visitors who can embrace the infinite opportunities in Asia's world city.
Shanghai Municipal Government Deputy Secretary-General Gu Honghui said at the reception that Shanghai is pleased to join hands with Jiangsu, Zhejiang, Anhui and Shandong to foster co-operation with Hong Kong on all fronts.
The event venue was themed with Hong Kong MTR car compartments and the city's scenery and information on its latest developments were displayed through the windows as LED screens.
Also on display were miniature models of landmark buildings in the West Kowloon Cultural District and the "Hello, Hong Kong!" Drago-Cavallo designed by artist Simon Ma.