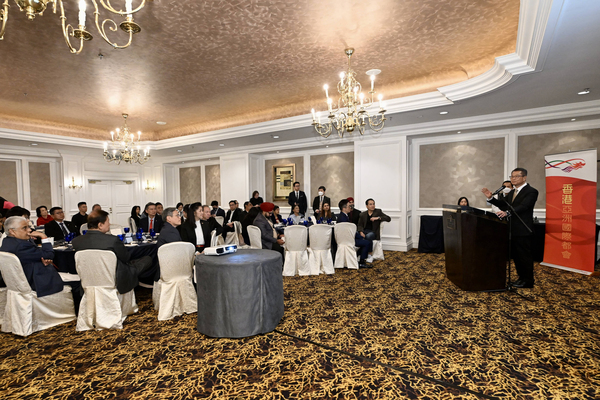 Financial Secretary Paul Chan met those representing the business, fintech and financial sectors in Malaysia to promote Hong Kong's advantages and opportunities as he began his visit there on March 27.
In the morning, Mr Chan met representatives of the Fintech Association of Malaysia to introduce them to the measures announced in the Budget to speed up the growth of the digital economy and Web3.
In addition to explaining that such measures would provide clear directions for international fintech firms to develop in Hong Kong, he welcomed the fintech industry to explore opportunities in the city.
Both sides also exchanged views on the latest development of fintech in Malaysia and Hong Kong.
Addressing individuals gathered at a luncheon co-organised by the Hong Kong Economic & Trade Office (HKETO), Jakarta and the National Chamber of Commerce & Industry of Malaysia, the finance chief welcomed Malaysian enterprises to use Hong Kong as a platform to explore business opportunities of the Mainland's huge market, particularly those of the Guangdong-Hong Kong-Macao Greater Bay Area.
"Malaysia will continue to scale new heights and it offers tremendous opportunities for business and our people to partner with you to explore the wonderful opportunities in the Association of Southeast Asian Nations as well as on the Mainland of China."
Apart from stressing that now is the best time to invest in Hong Kong and grasp the opportunity of the recovery momentum, Mr Chan emphasised that the city has unique advantages under "one country, two systems" and is the best gateway for entering the Mainland market.
In the afternoon, he provided updates about Hong Kong's latest situation while paying a courtesy call on Charge d'Affaires ad Interim of the Embassy of the People's Republic of China in Malaysia Tang Rui.
The Financial Secretary also met representatives of healthcare and financial enterprises in Malaysia to discuss different ideas and opinions on the relevant sectors' latest developments.
He highlighted the investment environment in Hong Kong and encouraged them to look into the vast business options the city has to offer.
In the evening, Mr Chan attended a dinner co-organised by the HKETO, Jakarta and the Associated Chinese Chambers of Commerce & Industry of Malaysia.
During his keynote speech, Mr Chan welcomed chamber members to make further use of Hong Kong's financial, trade and professional services and actively tap the bay area's market.