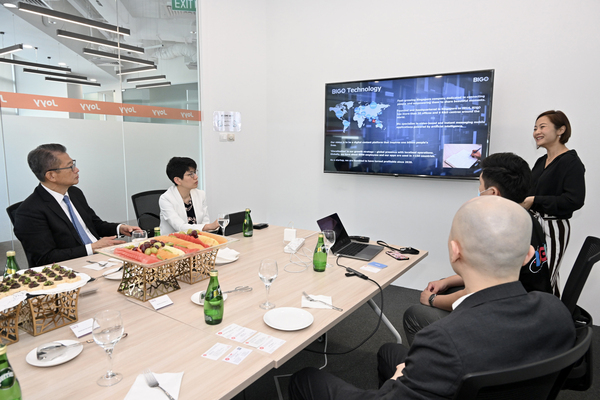 On the last day of his trip to Singapore, Financial Secretary Paul Chan met representatives of Internet technology companies and encouraged them to develop their businesses in Hong Kong.
During a breakfast meeting with founders and senior management of more than 10 world-leading Web3 and virtual asset platforms, Mr Chan and the participants exchanged views on the latest market situation, developments and potential opportunities. He also explained to them Hong Kong's ideas, policies and measures for promoting Web3 development.
Many of the participants were interested in Hong Kong's efforts in fostering a vibrant technology ecosystem and indicated that they were considering setting up a business in Hong Kong.
Mr Chan also gave a keynote address at a business luncheon. He briefed greentech and fintech startups on Hong Kong's policy support for startups, its vibrant innovation and technology ecosystem, the market opportunities in Hong Kong and the Greater Bay Area, the city's fund-raising channels and its listing platform.
Concluding the visit, Mr Chan said: "The economic development in China and the Association of Southeast Asian Nations (ASEAN) is booming.
"By helping to deepen our co-operation with ASEAN and assisting them in developing and financing their businesses in Hong Kong and the Greater Bay Area, contributing to Asia's regional economic development and fostering more human and cultural exchanges, Hong Kong will create ample space to develop for itself."
The finance chief headed back to Hong Kong in the evening.