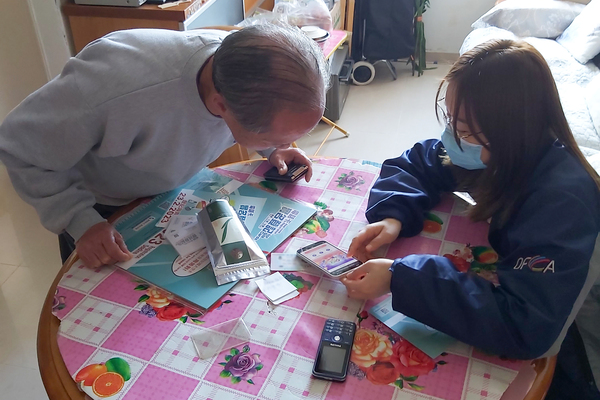 Support services will be further strengthened and telecommunications service providers are required to dedicate extra resources to assist users' real-name registration for pre-paid SIM cards (PPS cards) by February 23, the Government announced today.
Real-name registration for PPS cards will be fully implemented on February 24 and existing PPS cards cannot be used after that date.
PPS card users who have not yet completed real-name registration may do so through their telecommunications service providers' websites or mobile applications with reference to their SMS notification reminders.
Assistance can also be sought from the service providers' retail outlets or service counters set up in 18 designated post offices. The service hours of the counters will be extended to 7pm on February 22 and 23 to handle a possible surge in assistance requests as the deadline approaches.
Secretary for Commerce & Economic Development Algernon Yau viewed the operation of the registration support service at Wan Chai Post Office this afternoon and encouraged all citizens to register their SIM cards in accordance with the Real-name Registration Programme to comply with the registration requirement.
"After the deadline, the cards will not be usable anymore and that will create an inconvenience. So in this case, I appeal to all citizens, especially the elderly, to register as soon as possible.
"It is very handy and easy. Just bring your identity card with the SIM card and the portable phone that can receive the SMS and the registration will just take about a few minutes."
Support stations set up by the Government at 25 designated MTR stations operating from 9am to 6pm daily before the registration deadline will continue to assist PPS card users in need.
The Secretary for Commerce & Economic Development had earlier written to telecommunications service providers to ask for extra resources and manpower to enhance support services for their customers, including the extension of service hours of their retail outlets. The service providers will put in place plans to handle contingency situations.
The Commerce & Economic Development Bureau, the Office of the Communications Authority and telecommunications service providers have set up a dedicated task force to work together to ensure a smooth completion of real-name registration for existing PPS cards before the registration deadline.