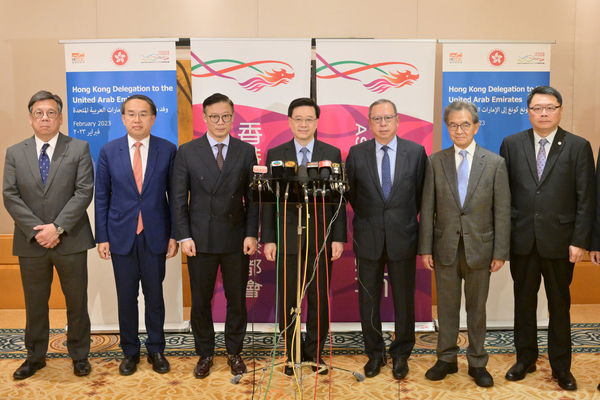 Chief Executive John Lee today said his visit to the Middle East was fruitful.
At a media session in the United Arab Emirates (UAE), he described it as a visit of strengthening friendship with the Middle East, further promoting Hong Kong's strengths and advantages and enhancing the potential for other countries, industries or companies from the Middle East to come to Hong Kong.
Mr Lee said: "First of all, the Hong Kong Special Administrative Region Government and the Saudi Arabian Government have agreed to start negotiations on the Investment Promotion & Protection Agreements.
"We have also agreed with the United Arab Emirates Government to start discussing issues that we want to cover in respect to green and sustainable financial co-operation.
"As to the people-to-people, and business-to-business side, we have signed altogether 13 Memorandums of Understanding or Letters of Intent in regard to co-operation. They cover a wide range of areas including innovation & technology, business, professional services, logistics, etc.
"These are only the immediate results. What is also important is the further relationship and the co-operation potential that will develop as a result of this visit."
The Chief Executive added he has informed people there that Hong Kong is fully opened up and ready to get into a lot of businesses in different areas.
"Hong Kong is a place for people to seriously consider, not just in investments, but also in all sorts of other possibilities with regard to trade, commerce, professional services, etc."
After meeting the media, Mr Lee and the Hong Kong SAR delegation attended a breakfast meeting hosted by Investcorp, an alternative investment management company in the Middle East, to understand more about the company's future plans in China and Asia.
He promoted Hong Kong as an international financial hub with a rich pool of talent in professional services that can help the company further grasp the immense opportunities in the Mainland, especially in the Guangdong-Hong Kong-Macao Greater Bay Area.
Mr Lee then visited Dubai Holding, a leading enterprise in Dubai, to meet its Chairman HH Sheikh Ahmed Bin Saeed Al Maktoum, and toured the Burj Al Arab Jumeirah under the group to understand the development of local business and tourism as well as the enterprise's business development plan.
He also introduced the Hong Kong SAR Government's latest policies and measures in attracting business and investment and applauded the enterprise's expansion of diversified and international business.
The Chief Executive wrapped up his Middle East visit with a luncheon hosted by the Chinese Business Council in UAE where he exchanged views with representatives of Chinese enterprises there.
Speaking at the event, Mr Lee said his trip will bring relations between Hong Kong and the Middle East region to new heights, expanding the scope of co-operation between Hong Kong and Belt & Road countries and enhancing people-to-people bonds.
He will return to Hong Kong tomorrow morning.