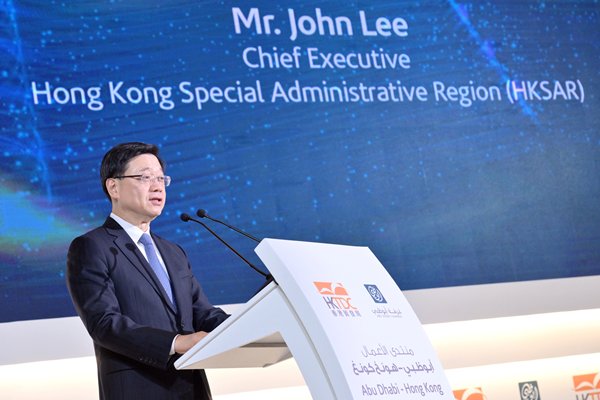 It is business and friendship that brought me here, on one of my first overseas visits as the Chief Executive of the Hong Kong Special Administrative Region of the People's Republic of China. And with me today are some 30 high-level Hong Kong leaders from a great variety of sectors and industries.
We are here to tell you that Hong Kong is back on the centre stage again. Back in active business, back in the active business of creating opportunities for Abu Dhabi, for the United Arab Emirates (UAE), for each and every one of you. No quarantine, no isolation, no restrictions whatsoever. We are on a clear path of recovery after three years of the COVID-19 pandemic, and recovery means opportunities, abundant opportunities for development and for prosperity.
It helps, considerably, that we are strong and longstanding business partners. Indeed, the UAE is Hong Kong's largest trading partner in the entire Middle East region.
HK-UAE ties
Between 2017 and 2021, our two economies enjoyed an annual average growth of 4.1%. About 9.5% of the buoyant and growing trade between the UAE and Mainland China was routed through Hong Kong in 2021.
It goes to show that the UAE is a key link in our country's Belt & Road Initiative, a global initiative built on infrastructure, on trade and people-to-people bonds, and that Hong Kong is an important platform connecting the country with the vast opportunities in the Middle East region.
Hong Kong can join you all in supporting your Belt & Road ventures. We are a leading international financial centre. We are expanding our financial services offerings to play a pivotal role in the Belt & Road and other national programmes.
Thanks to the unique principle of "one country, two systems", which has been in place since Hong Kong's return to the motherland in 1997, Hong Kong is bestowed with the unrivalled advantages of enjoying our country's strong support while maintaining high and open connectivity with the rest of the world.
As the world's largest offshore renminbi business hub, we can support the offshore renminbi transactions and other financial activities your Belt & Road projects need.
Alongside capital, our professional services are world-class. From feasibility studies and project management, to architectural and engineering design, risk management, legal services and more, Hong Kong is your one-stop Belt & Road centre for professional services.
The creative industry is another area that promises rewarding co-operation between us. Abu Dhabi's continuing rise as an international centre for arts and culture has been remarkable.
It is much the same with Hong Kong, where the West Kowloon Cultural District, one of the world's largest cultural infrastructure projects, is fast being realised. Our country's 14th Five-Year Plan supports Hong Kong's hub role as an East-meets-West centre for international art and cultural exchange. I look forward to wide-ranging cultural exchange between us, between our creative sectors and the institutions and artists who make them thrive.
I am pleased to note that we have already laid a solid foundation to promote future co-operation. The UAE-Hong Kong Investment Promotion & Protection Agreement, which entered into force nearly three years ago, has taken our relationship to the next level.
So too, has the establishment of the first Hong Kong Economic & Trade Office in the Middle East region. It opened in Dubai in October 2021.
And it is a clear and compelling statement of the great importance we place on building ever stronger ties with the UAE. With you.
Middle East ventures
The Hong Kong Monetary Authority plans to lead a high-level financial delegation to visit the UAE and other Middle East locations later this year. This time last year, our Monetary Authority signed an MOU (Memorandum of Understanding) with the Central Bank of the UAE on fintech collaboration.
That alliance has expanded. It now includes their participation in the Multiple Central Bank Digital Currency Bridge, or Project mBridge, together with the People's Bank of China, the Bank of Thailand and Hong Kong's BIS Innovation Hub Centre. Late last year, Project mBridge became one of the world's first multi-central bank digital currencies to settle real-value, cross-border transactions on behalf of corporate clients. And we are just getting started.
Hong Kong and the UAE are just getting started in other new economy – new opportunity – areas as well. Our two governments have agreed to explore signing a memorandum of understanding on co-operation in green and sustainable finance.
Working together is key to success. Together today, together tomorrow. I am confident Hong Kong and the UAE will continue our rewarding co-operation, creating strong business networks, and opportunities, built on just such partnerships.
Chief Executive John Lee gave these remarks at the Abu Dhabi-Hong Kong Business Forum & Networking Luncheon on February 7.