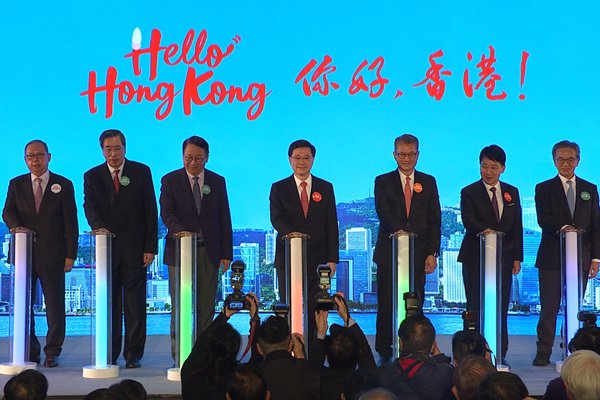 (Click the hyperlinks to watch the full launch ceremony and press conference with sign language interpretation.)
Chief Executive John Lee, senior officials and other guests officiated at the launch ceremony for the "Hello Hong Kong" campaign, to unveil a series of events to tell the world the good stories of Hong Kong and to promote the city's business opportunities, cultural attractions and tourism experiences.
Addressing the ceremony, Mr Lee said this is the perfect time for tourists, business travellers and investors, from near and far, to come to Hong Kong.
"Today, I am happy to tell you that Hong Kong is welcoming every one of you to join us on our centre stage, for Hong Kong is now seamlessly connected to the Mainland of China and the whole international world.
"There will be no isolation, no quarantine, and no restriction on experiencing our great wine and dine scenes, on doing business, on joining events and outings, on doing sports, on enjoying the hustle and bustle of Asia's world city, and so much more."
Mr Lee said free air tickets and special offers will be given out to attract tourists.
"First and foremost, we have prepared 500,000 free air tickets to welcome tourists from every part of the world to come to Hong Kong.
"And they can also take advantage of an array of special offers, vouchers and other incentives to make their experience in Hong Kong all the more fantastic and memorable."
Building on Hong Kong's tourism qualities, its strengths in finance, business and trade, as well as its unrivalled connectivity to the huge Mainland market, the city is poised to host mega events and giant trade shows to boost its meetings, incentives, conventions and exhibitions sector.
In the next two months, there will be sporting and outdoor events like the Hong Kong Marathon, the Hong Kong Sevens rugby tournament and the 100-kilometre Trailwalker; arts and cultural delights like Art Basel, the Museum Summit and the Hong Kong Arts Festival; as well as top trade shows, exhibitions and competitions like the International Jewellery Show, the WOW Summit and the Vis East Moot.
The Government is also going out to tell many good Hong Kong stories to overseas and Mainland counterparts.
"Business communities and professional groups will also reach out to various parts of the world throughout the year, to tell their global counterparts the great and true stories of Hong Kong," Mr Lee said.
The Government is also inviting prominent guests, from business heavyweights and political dignitaries, to media chiefs and influencers, to come to Hong Kong and see for themselves the welcoming atmosphere, promising opportunities, and many exciting developments and new attractions, Mr Lee added.
At a press conference afterwards, Financial Secretary Paul Chan said Hong Kong has entered a new and an exciting development phase after three years of the COVID-19 pandemic and it is actively returning to normalcy.
"The 'Hello Hong Kong' Campaign is just the beginning. Through establishing the Task Force on Promoting & Branding Hong Kong, we are going all out to promote the singular advantages of our city to overseas and Mainland audiences. Our priority is to make sure that people around the world have an accurate understanding of Hong Kong."