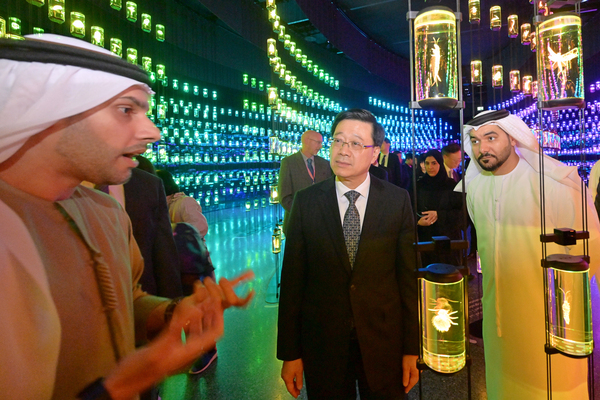 Chief Executive John Lee met Vice-President and Prime Minister of the United Arab Emirates (UAE) and Ruler of Dubai HH Sheikh Mohammed bin Rashid Al Maktoum during his visit to the Middle East.
Mr Lee said the UAE is a key partner in the Belt & Road Initiative, which has developed several major projects with China, adding that Hong Kong possesses the necessary supporting facilities for the projects and can provide financing support, as well as any architectural design and related professional services that are required.
The UAE was Hong Kong's 14th largest trading partner in the world in 2021, with bilateral trade that year standing at about US$12.8 billion, representing an increase of 35% over 2020. Between 2017 and 2021, the average annual growth rate in bilateral trade was 4.1%.
As of November 2022, there were 36 companies in Hong Kong representing parent companies located in the UAE, in which four of them are regional headquarters.
These figures reflect the enormous business opportunities between Hong Kong and the UAE, Mr Lee pointed out.
Following the meeting, the Hong Kong delegation visited the Museum of the Future. This museum incorporates elements of traditional exhibitions, theatre and themed attractions, allowing visitors to explore how society could evolve using science and technology.
Mr Lee said he looks forward to more collaborations on innovation and technology with the foundation.
Additionally, Mr Lee and UAE Minister of State for Artificial Intelligence, Digital Economy & Remote Work Applications and Deputy Managing Director of Dubai Future Foundation Omar bin Sultan Al Olama witnessed the signing of a memorandum of understanding between Hong Kong Cyberport and the Dubai Future Foundation. The memorandum would form a useful basis for technology co-operation and exchange of ideas between the two parties.
The Chief Executive will begin the last day of his visit to the UAE today.