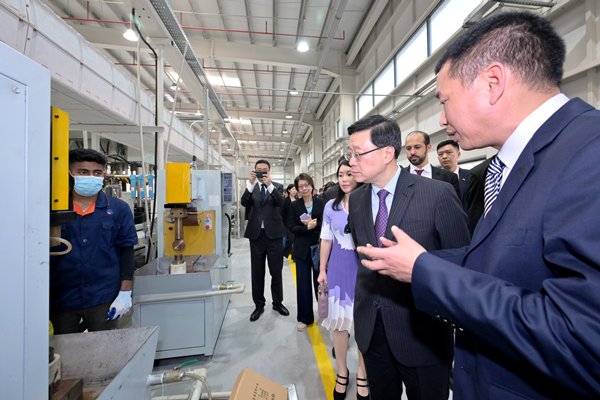 Chief Executive John Lee continued his visit in Abu Dhabi, the United Arab Emirates (UAE), where he toured local industrial facilities and a logistics group before starting his visit programme in Dubai.
In the morning, Mr Lee led the Hong Kong delegation to visit the China-UAE Industrial Capacity Cooperation Demonstration Zone at the Khalifa Industrial Zone in Abu Dhabi.
He said the zone was a successful example of a joint effort between China and the UAE under the Belt & Road Initiative as it demonstrates the significance and the enormous potential of the initiative. He encouraged Hong Kong enterprises, by making good use of overseas economic and trade co-operation zones, to explore business opportunities in Belt & Road-related countries.
The delegation then visited the Abu Dhabi Ports Group and attended a luncheon. Noting that Hong Kong is an international maritime centre, Mr Lee shared his belief that companies in Hong Kong and the UAE as well as those in the Middle East could work together to grasp the opportunities brought about by the Belt & Road Initiative and the Greater Bay Area by leveraging Hong Kong's role as a springboard.
In the afternoon, the Chief Executive departed for Dubai to meet UAE Minister of State for Foreign Trade Thani bin Ahmed Al Zeyoudi. During the meeting, he stressed that there is a world of opportunities in Hong Kong available to UAE businesses and investors, from new and traditional energies to smart city, transportation, logistics, financial technology and biotechnology. He expressed hope that Hong Kong and UAE firms could further explore collaboration opportunities under the Belt & Road Initiative.
Later in the day, he attended the UAE-Hong Kong Business Forum & Chinese New Year Gala Dinner.
While addressing representatives at the event, apart from emphasising that the UAE is Hong Kong's largest trading partner in the Middle East region, Mr Lee said Hong Kong looks forward to forging closer bilateral relations, particularly on green and sustainable finance, with the UAE.
Moreover, the Chief Executive witnessed the exchanges of three memoranda of understanding between Hong Kong and UAE enterprises on fostering co-operation in architectural professional services and innovation and technology, as well as business of enterprises or organisations between the two places.
Mr Lee will continue his trip in Dubai today.