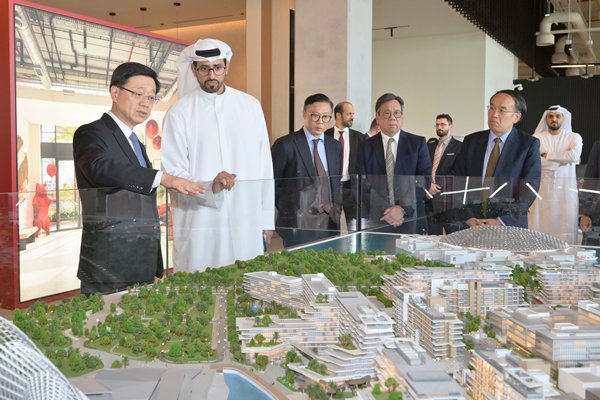 Chief Executive John Lee started his visit to Abu Dhabi, the United Arab Emirates (UAE) on February 7 by attending a business forum and visiting enterprises there.
The delegation led by Mr Lee attended the Abu Dhabi-Hong Kong Business Forum and networking luncheon hosted by the Abu Dhabi Chamber of Commerce & Industry to exchange views on fostering co-operation between the industrial and commercial sectors in Hong Kong and the UAE.
Speaking at the forum, Mr Lee noted that the UAE is Hong Kong's largest trading partner in the Middle East, and that Hong Kong will capitalise on its advantages as an international financial centre and the world's largest offshore renminbi business hub to facilitate the UAE's active participation in the Belt & Road Initiative.
Mr Lee and the Abu Dhabi Chamber of Commerce & Industry's First Vice Chairman Ali Saeed Bin Harmal Aldhaheri witnessed the exchanges of Memorandum of Understanding between the Abu Dhabi Chamber of Commerce & Industry and the Federation of Hong Kong Industries and the Hong Kong Trade Development Council, which promote further co-operation between the two places on industry, commerce and trade.
The delegation led by Mr Lee then visited an Abu Dhabi enterprise, Aldar Properties PJSC, to learn more about the real estate development and investment situation there.
They also visited the UAE's sovereign wealth fund, Mubadala Investment Company, and met its Managing Director and Group Chief Executive Officer Khaldoon Khalifa Al Mubarak to introduce Hong Kong's distinctive advantages under "one country, two systems" while enjoying the strong support of the motherland and being closely connected to the world, as well as discuss collaboration opportunities with Hong Kong enterprises.
Mr Lee then met Xiao Peng, the Chief Executive Officer of tech firm G42, to introduce the enormous business opportunities in Hong Kong and to invite the company to grasp investment opportunities in the city.
He then had a meeting with the Abu Dhabi Investment Authority Managing Director Sheikh Hamed bin Zayed Al Nahyan, who is a member of the ruling family in the Emirate of Abu Dhabi, and deliberated on issues on economic co-operation.
In the evening, the delegation led by Mr Lee attended a welcoming dinner hosted by the Ambassador Extraordinary & Plenipotentiary of the People's Republic of China to the UAE Zhang Yiming.
Mr Lee will continue his visit in Abu Dhabi today and will depart for the UAE city of Dubai later on.