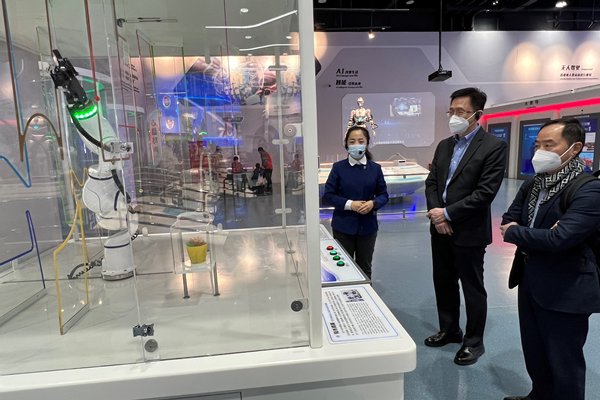 Secretary for Innovation, Technology & Industry Prof Sun Dong continued his Beijing visit today, with a tour of the China Science & Technology Museum.
Prof Sun viewed exhibitions on the structural component of the China Space Station's Tianhe core module, 5G connection application, robot arm and robot with man-machine synchronisation and carbon neutrality as well as the Explorations & Discoveries Gallery.
He said the Hong Kong Special Administrative Region Government will make use of the city's two science museums and their educational facilities to organise more and different popular science activities, especially those in aerospace to enhance technology literacy in the community.
Prof Sun then met Cyberspace Administration of China Vice Minister Cao Shumin to discuss support for Hong Kong's digital economic transformation and participation in the "Digital China" development.
Both sides agreed to establish a close communication mechanism and the tech chief extended an invitation to the cyberspace administration's management to visit Hong Kong to join the Digital Economy Summit in April.
He also called on Hong Kong & Macao Affairs Office (HKMAO) of the State Council Deputy Director Yang Wanming to introduce to him the Hong Kong I&T Development Blueprint.
Prof Sun was pleased to learn that the HKMAO supports the blueprint for establishing a clear path for Hong Kong's innovation and technology development, making use of the motherland's strong backing and the city's close connection to the world.
The office supports the blueprint as it proactively integrates into the overall development of the country and brings new opportunities to Hong Kong, he added.