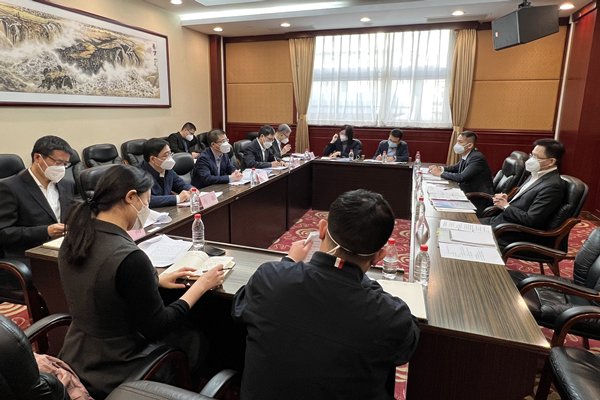 Secretary for Innovation, Technology & Industry Prof Sun Dong today met Vice Minister of Science & Technology Prof Zhang Guangjun in Beijing and visited two centres at Zhongguancun.
Prof Sun briefed Prof Zhang on key elements in the Hong Kong Innovation & Technology (I&T) Development Blueprint.
They discussed the expedition of the signing of the "Arrangement between the Mainland & Hong Kong on Expediting the Development of Hong Kong into an International Innovation & Technology Centre".
Other discussion topics involved the reorganisation of State Key Laboratories in Hong Kong and arrangements for the establishment of a dedicated task force on the development of Hong Kong as an international I&T centre.
They also explored ways to further promote the city's integration into national I&T development as well as more facilitation measures to promote the convenient cross-boundary flow of innovation elements.
Prof Sun also had separate meetings with China Association for Science & Technology (CAST) officials Shu Wei and Luo Hui.
Mr Shu is Deputy Secretary of the CAST leading Party members group as well as Secretariat Standing Vice-Chairman & Executive Secretary, while Ms Luo is a member of the CAST leading Party members group as well as Hong Kong, Macao & Taiwan Exchange Office Director.
Prof Sun expressed his hope to work with CAST to continue and deepen the co-operation between the Mainland and Hong Kong in academic exchanges, popular science, nurturing talent and youth education.
Both sides discussed supporting the participation of Hong Kong talent in nationwide academic associations as well as promoting the participation of Hong Kong higher education institutions and scientific research organisations in youth exchange activities organised by CAST.
In the afternoon, Prof Sun visited the Zhongguancun Beijing-Hong Kong-Macao Youth Innovation Center where he received a briefing on its work and achievements on providing support to Beijing and Hong Kong enterprises on technology collaboration and innovation development.
He also inspected four Mainland enterprises specialising in autonomous driving, cloud services, smart command and dispatch, and medical devices.
Prof Sun then went to the Zhongguancun Exhibition Center and called on Party Secretary of Beijing Municipal Science & Technology Commission and Zhongguancun Science Park Administrative Commission Zhang Jihong.
He also met Deputy Director General of the Hong Kong & Macao Affairs Office of the People's Government of Beijing Municipality Li Hui.
The technology chief stated that the Beijing Municipal Science & Technology Commission has always given staunch support to the promotion of I&T exchanges and co-operation between Beijing and Hong Kong.
Zhongguancun, being home to many renowned higher education institutions and research centres, is a leading hub in promoting the country's technology development, he added.
Prof Sun said he hoped Beijing and Hong Kong would continue to deepen their co-operation in technology development in the future and strive together for the advancement of the country's scientific research.