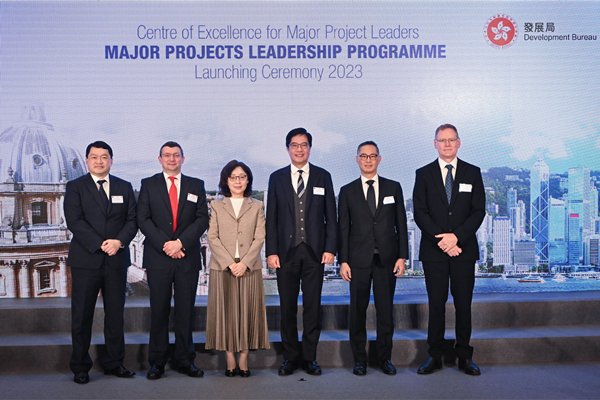 The Centre of Excellence for Major Project Leaders (CoE) under the Development Bureau today launched the 2023 Major Projects Leadership Programme (MPLP), extending the training to stakeholders outside the Government.
The Government noted that overwhelming responses from top management of various international engineering consultants, contractors and public bodies have been received.
As the flagship programme of the CoE, the MPLP is designed and delivered by the Oxford Saïd Business School with the aim of offering a high-level project management and leadership development programme to major project leaders to uplift overall performance and cost effectiveness of public works projects.
Officiating at the launching ceremony, Deputy Financial Secretary and Honorary Vice President of the CoE Michael Wong said that counting both public and private sectors, Hong Kong's construction output totalled some HK$240 billion in 2021, which accounted for close to 9% of the city's gross domestic product.
He noted that a few far-reaching landmark developments, including the Northern Metropolis and the Artificial Islands in the Central Waters, are in the pipeline, while Hong Kong's construction volume in the medium to long term is anticipated to reach about HK$300 billion a year.
It needs to ensure that resources are used as effectively and efficiently as possible to ensure those capital projects meet public expectations for project efficiency and delivery, he added.
The 12-month MPLP includes international classes at Oxford and local classes, and is supported by personal coaching and professional assessment.
The Financial Secretary announced in his 2022-23 Budget Speech the extension of the training of the CoE to stakeholders outside the Government with a view to jointly taking forward the long-term major development plans of Hong Kong.