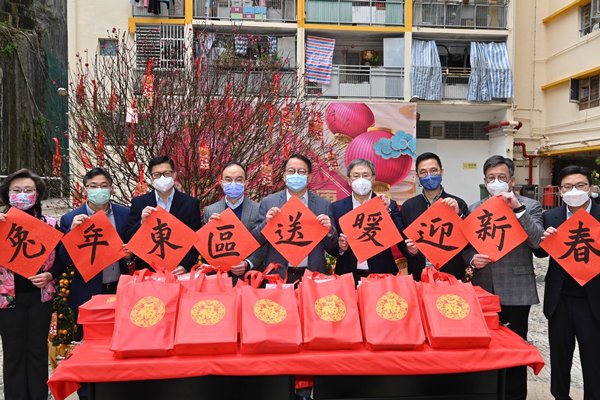 Principal officials of the Government will pay visits to grassroots families in different districts for three consecutive days and distribute blessing bags in celebration of the Chinese New Year.
The Home Affairs Department made the announcement and explained that it co-ordinated the Chinese New Year Home Visit Programme that began today.
Chief Secretary Chan Kwok-ki and Deputy Chief Secretary Cheuk Wing-hing together with a number of principal officials visited the Eastern District.
Mr Chan, along with Secretary for Constitutional & Mainland Affairs Erick Tsang and Secretary for Labour & Welfare Chris Sun visited an elderly singleton and elderly doubletons living in Healthy Village in North Point.
Secretary for Culture, Sports & Tourism Kevin Yeung, Secretary for Commerce & Economic Development Algernon Yau and Secretary for the Civil Service Ingrid Yeung also visited the seniors living in Heathy Village.
Meanwhile, Mr Cheuk, together with Secretary for Security Tang Ping-keung and Secretary for Transport & Logistics Lam Sai-hung visited an elderly singleton and a grassroots family living in Oi Tung Estate in Shau Kei Wan.
In addition to chatting with them to understand their daily needs, they gave them Chinese New Year blessing bags with the goal of delivering seasonal greetings on behalf of the Government.
The principal officials will continue to visit grassroots families on January 22 and 23 to extend warm regards in celebration of the festival.