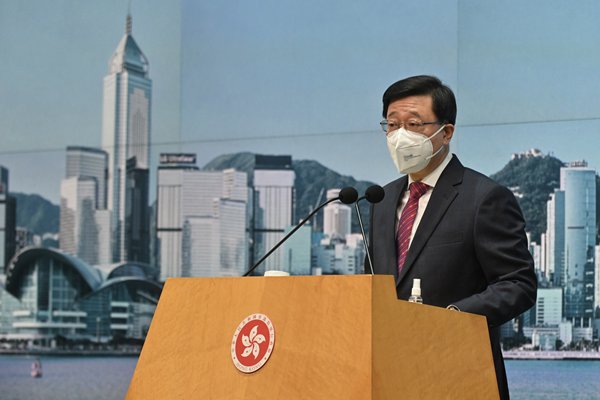 (To watch the full media session with sign language interpretation, click here.)
The Hong Kong Special Administrative Region Government and Mainland authorities will closely monitor the operation of the resumption of normal travel between the two places and see whether there is room to adjust relevant arrangements.
Chief Executive John Lee made the remarks this morning before attending the Executive Council meeting.
In addition to pointing out that all relevant boundary control points (BCPs) have been operating well since normal travel between Hong Kong and the Mainland resumed on January 8, he stressed that the process in which people are travelling across the boundary is being done in an orderly manner.
Currently, the total prescribed daily number of people who can travel to the Mainland via these BCPs is 50,000.
Noting that there are still time slots available for bookings in the first eight weeks, Mr Lee said the Hong Kong SAR Government will maintain communication with the Mainland authorities to discuss whether it is possible to adjust the prescribed number of people passing through the BCPs and the number of BCPs.
"We have assessed a suitable number for people to make appointments so as to ensure that the passage at the boundary crossing points is orderly, safe and smooth.
"A lot of visitors from the Mainland need to have the right endorsement for them to come and the process of endorsements has just started.
"And the other point I would like to make is, we are not looking at just one or two single days, we are obviously looking at the reopening of the boundary crossing in the long run. And obviously this has been the desire and the wants of a lot of people, not just to satisfy family reunions, but to ensure that normal business and normal activities can go about."
The Chief Executive also emphasised that the resumption of normal travel between the two sides will have a positive effect on the economy as well as the tourism, exhibition, retail and catering sectors.
"This normal travel between the two places will not just ensure that the activities between the two places can resume, it also means that our international connectivity will increase as well, as overseas visitors can also come to Hong Kong to make their way into the Mainland and vice versa.
"In fact, the Hong Kong SAR Government is planning to do a big promotion exercise starting in February because I think tourism will start to come back in February. So it is the Hong Kong SAR Government's plan to launch a big promotion for attracting tourism and attracting businesses to Hong Kong and we will be working with the tourism sector and also the business sector to make the promotion in that regard."