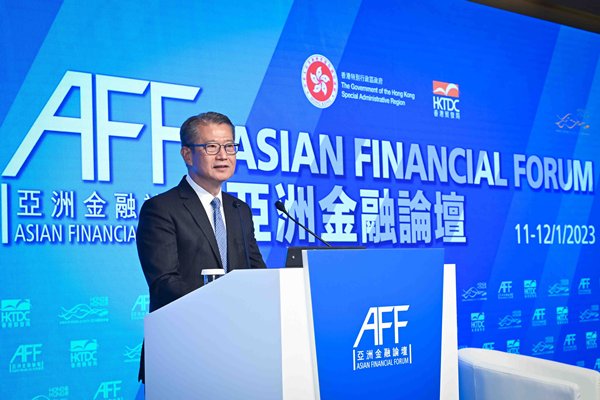 Sustainable development is the focus of today's luncheon. In one way or another, it is an overarching theme that the world needs to address. The 2030 Agenda for Sustainable Development and the 17 sustainable development goals adopted by all United Nations (UN) member states in 2015 call on us to build an inclusive, sustainable and resilient future – for humanity and the precious planet we inhabit.
Progress towards sustainable development has seen tremendous challenges over the past few years. COVID-19 has wreaked havoc on the world and our economies. Regional conflicts and geopolitical tensions have disrupted supply chains, led to soaring food and fuel prices, and saddled the world with inflation unseen in decades. The resulting interest rate hikes by central banks all over the world have severely threatened global economic growth. The combined effects of the above would hit hard the world's poorest and most vulnerable.
Meanwhile, we need to make more substantial progress to combat climate change and its impact, thus allowing our future generations to live in a sustainable world. For example, as indicated in the UN's Sustainable Development Goals Report 2022, the global climate finance commitment still fell far short of what was needed.
As we start the year 2023, this Asian Financial Forum, where distinguished political, economic and financial leaders around the world gather together, provides a golden opportunity for us to reflect and think how we could do better.
There is one thing we are sure of: the development and progress of our country, China, being the most populated country, the second largest economy in the world, and the biggest contributor to annual global growth, will shape and impact on the trajectory of the world's sustainable development. And I feel proud to witness our country's unwavering commitment to contribute to this great cause, with a clear vision and a concrete, viable and practical pathway.
At the 20th National Congress of the Communist Party of China which took place in October last year, high-quality development was the fundamental theme. Firm commitment has been made to implementing reforms in developing the socialist market economy, maintaining the country's fundamental policy of opening to the outside world as well as fostering positive interplay between domestic and international economic flows. This commitment is important because it signifies that China will continue to be a locomotive of global economic growth, and stand as a contributing and stabilising force for regional and global political and economic development. Particularly so as the centre of global economic gravity is gradually shifting eastwards, with Asia playing a much more important role now and in the years to come.
Amid achieving rapid economic growth, China has made significant contributions to global poverty reduction, by having completely eradicated absolute poverty, and will continue to help areas and people that have just shaken off poverty to build their own momentum for growth.
A green and low-carbon economy and society are crucial to our country's high-quality development. Through driving innovation and technology, improving the industry structure, rationalising the energy mix, accelerating green consumption, and much else, our country is marching fast towards peaking carbon emissions by 2030 and achieving carbon neutrality by 2060. Pollution prevention and control as well as enhancing biodiversity are also high on the agenda.
And our country also has the vision to build a world with a shared future. It will continue to support economic globalisation, multilateralism, investment liberalisation and facilitation. Equally if not more important is its firm commitment to international cooperation and global governance. By putting forward the Global Development Initiative, our country is actively driving and contributing to more balanced, harmonious and inclusive development of the world; and is prepared to invest more resources in global cooperation and assist other developing countries in their economic development. Since this Initiative was proposed in 2021, it has received support from more than 100 countries and international organisations, and more than 60 countries have participated in the Group of Friends of the Global Development Initiative.
For Hong Kong, we also see a clear case for more sustainable development for our city by striking a proper balance between economic, environmental and social considerations.
Economic progress is always fundamental to our endeavour to ensure that we have the means and resources to take forward policies and measures. That is why since this new-term Government has assumed office, we have focused on creating strong impetus of economic growth. Beyond traditional industries which used to be our economic pillars, such as the financial or real estate sector, we set our sights on further diversifying our economic structure, in particular supporting innovation and technology development. This will not only enhance the city's competitiveness and long-term economic sustainability, but is also key to creating high quality jobs and employment opportunities for our people. Fully appreciating the importance of talent and strategic enterprises to fuelling economic growth, we have also rolled out bold measures to compete for them.
Land and housing have long been a sticking point for Hong Kong. This Government has also put land and housing as one of our top priorities and will do as much as we can to enhance the quantity, speed and quality of housing supply. This is a vital step to address our people's concerns and the wealth gap.
On climate change, we have peaked carbon emissions in 2014. We are committed to achieving our Climate Action Plan 2050, by reducing total carbon emissions from the 2005 level by half before 2035 and achieving carbon neutrality by 2050. In many other areas for the environment, such as reducing single-use plastic waste and promoting sustainable consumption of biological resources, we are working our way too.
And Hong Kong is keen on harnessing our status as an international financial centre and our strengths in professional services to contribute to global environmental objectives. Strong demands for sustainable infrastructure and green transition around the world present a vast promise, and Hong Kong is well poised to address them. In 2021, the amount of green and sustainable debt issued in Hong Kong reached about US$57 billion, and topped in Asia. Deep liquidity aside, the market covered a diversified investor base and project categories, including both greenfield and brownfield projects.