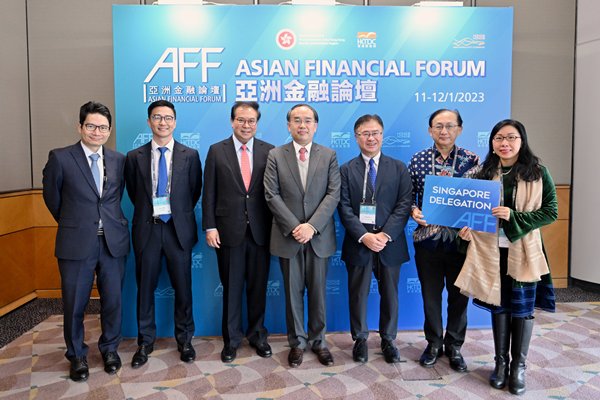 Secretary for Financial Services & the Treasury Christopher Hui today met overseas delegations from the World Alliance of International Financial Centers (WAIFC) and the Singapore business sector.
Held on the sidelines of the Asian Financial Forum (AFF) 2023, the meetings involved exchanges and discussions on the global financial landscape trends, the promotion of listings in Hong Kong as well as enhanced collaboration in knowledge sharing.
The alliance, of which Hong Kong is a member, facilitates co-operation between financial centres and the exchange of best practices.
The treasury chief shared with the WAIFC delegation Hong Kong's latest efforts in developing virtual assets, as well as bringing fintech into mainstream finance to help promote financial inclusion and improve the quality of life.
During the meeting with the Singapore delegation, the two sides shared their views on the plentiful opportunities brought about by the Guangdong-Hong Kong-Macao Greater Bay Area development.
Moreover, Mr Hui promoted listings of Singapore and Southeast Asian companies in Hong Kong.
Noting that the AFF this year is the first international forum since Hong Kong's travel restrictions have been relaxed, Mr Hui said he expects more business travellers to participate in international conferences in the city.