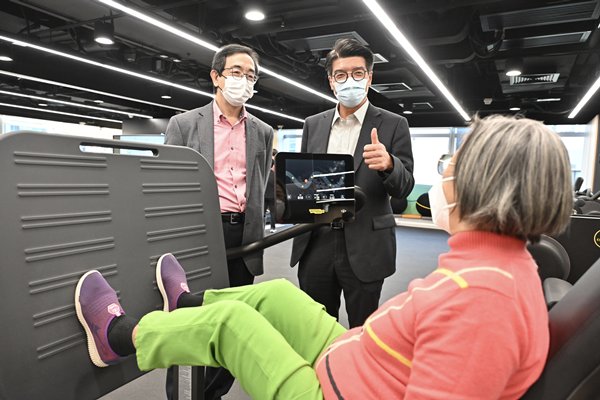 According to Government data, Hong Kong people have a very long life expectancy. The life expectancies at birth for both sexes have steadily increased to 83 years and 88 years for males and females respectively in 2021.
It is generally recognised that the prevalence of chronic disease increases with age, and Hong Kong is witnessing a rapidly ageing population. Against this backdrop, the Government introduced the Primary Healthcare Blueprint in December 2022 to push ahead a reform of the healthcare system which shifts the focus from curative treatment to disease prevention, with District Health Centres (DHCs) as the hub for co-ordinating primary healthcare services.
Health warning
Eliza Wong strives to lead a healthy lifestyle by exercising two to three times a week, for about an hour per day.
She also strictly manages her family's diet as her husband was diagnosed with higher-than-normal blood sugar and cholesterol levels four years ago.
Despite carefully monitoring her diet and exercising regularly, Mrs Wong was disappointed to discover that, like her husband, her blood sugar level was high, meaning she was pre-diabetic.
As a member of the North District Health Centre Express, Mrs Wong was screened for diabetes which detected her condition. To better control her blood sugar level, the DHC Express has arranged for Mrs Wong to join various physical activities and health talks. She will also be referred to a network doctor to monitor her situation.
North DHC Express Care Coordinator Gabriel So is responsible for following up on Mrs Wong's case. He noted that healthy living habits can reduce the chance of developing chronic diseases, but if a client has a family history of diabetes and high blood pressure, they are at higher risk of developing diabetes or hypertension.
Mrs Wong did not previously go for regular medical check-ups, but she credits the DHC Express with making her more aware of the risks of chronic disease and will now pay more attention to her diet and lifestyle.
In addition to providing diabetes and hypertension or high blood pressure screening, District Health Centres also organise health promotion activities to raise people's awareness of chronic disease management.
Informed decisions
Ng Mei-ying has had hypertension for more than a decade. She takes daily medication and must visit general outpatient clinics every three months to have her blood pressure checked. Ms Ng was reluctant to take up exercise because she was concerned about increasing her heart rate and raising her blood pressure further.
However, after joining a seminar organised by the Yuen Long District Health Centre, she discovered that moderate exercise could actually help to lower her blood pressure.
DHCs and DHC Expresses are supported by multidisciplinary professional teams comprising nurses, allied health professionals, pharmacists, social workers and support staff.
Yuen Long District Health Centre Chief Care Coordinator Shirley Hung explained that the information provided by the teams can effectively improve members' health management, such as when they are prescribed medication for high blood pressure.
"Patients may feel unwell at the beginning of taking antihypertensive drugs. As they need to make an appointment for a doctor's consultation, some patients may stop taking the drugs, or increase or decrease the dosage on their own, which is quite risky.
"The multidisciplinary care team of district health centres can play a role in this type of situation. Pharmacists can provide advice on the precautions when taking antihypertensive drugs, then patients will be more willing to adhere to the medication regimen, which is a key factor in chronic disease management."
Commissioner for Primary Healthcare Dr Pang Fei-chau supplemented that early detection and timely intervention can greatly help citizens to self-manage their personal health condition to reduce unnecessary hospitalisation.
"Take the example of pre-diabetes. They may not have symptoms at all and maybe they are just little bit obese and do not feel like they have any problems. They may find that they have pre-diabetes, but not up to the level of diabetes. So at this time, they can take preventive measures like improve their lifestyle, avoid some bad habits, increase their exercise time and have more weight reduction.
"They also can seek advice from medical doctors or family doctors, so they can have some medical intervention even at the early stage. In that case, they can prevent themselves from becoming a diabetic patient."
For access to primary healthcare services including health promotion, health assessment and screening, chronic disease management and community rehabilitation, citizens may register to become a member of their local District Health Centre and District Health Centre Express, for free.
Nurses at the centres will conduct a health risk factors assessment for members. Those identified with health risks will be referred to a network doctor for consultation.
Doctors may also refer the client to professional services such as physiotherapy, podiatry, speech therapy and occupational therapy, if needed.
The District Health Centres will co-ordinate the appropriate healthcare process for members.