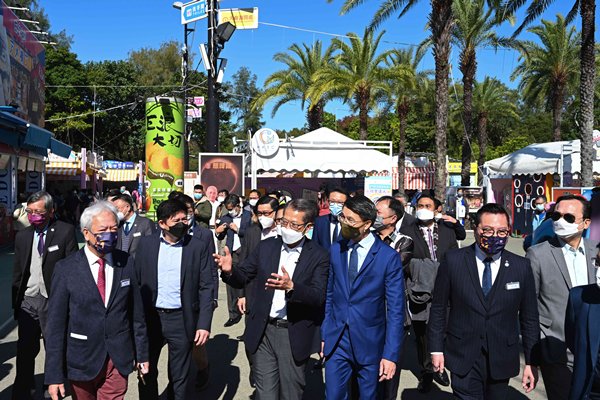 Financial Secretary Paul Chan today invited consuls general from five countries of the Association of Southeast Asian Nations (ASEAN) in Hong Kong to visit the 56th Hong Kong Brands & Products Expo at Victoria Park.
Mr Chan toured the expo with consul generals from the Philippines, Indonesia, Vietnam, Malaysia and Thailand in Hong Kong, together with staff members of the consulates general and representatives of business chambers of the relevant countries.
The exhibitors include some Hong Kong brands and products that are currently scaling and expanding their business into the Southeast Asian market, and some distributors of Southeast Asian products in Hong Kong.
Mr Chan browsed the booths with the consul general delegations and invited them to sample some local food and drinks as well as signature food from ASEAN countries.
Noting that the expo is an important annual event to promote Hong Kong brands and products, the finance chief said that such a joint visit is an opportunity to enhance the promotion of Hong Kong products to ASEAN countries, so as to explore more room for Hong Kong enterprises to develop.
He added the visit also demonstrated that the products of Southeast Asian countries have huge potential in the Hong Kong market and welcomed more enterprises and products in the region to expand their marketing and development in the city.