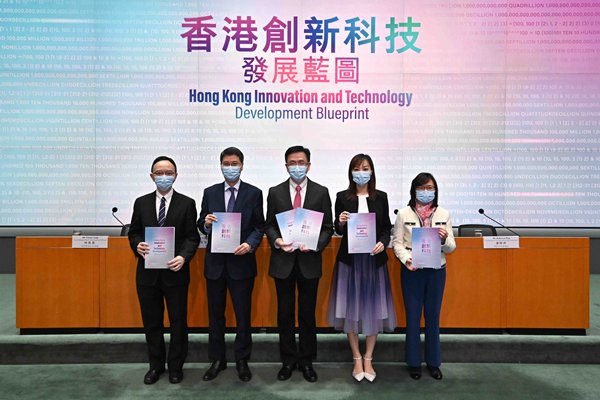 (To watch the full press conference with sign language interpretation, click here.)
The Government promulgated the Hong Kong Innovation & Technology (I&T) Development Blueprint today to establish a clear development path and formulate systematic strategic planning for I&T development over the next five to 10 years.
Secretary for Innovation, Technology & Industry Prof Sun Dong announced details pertaining to the blueprint at a press conference this afternoon, noting that it is a systematic and comprehensive document for Hong Kong's I&T development put forward by the Government after many years.
The Government will take forward the blueprint under four broad development directions. It aims to enhance the I&T ecosystem and promote new industrialisation in Hong Kong; enlarge the I&T talent pool to create strong impetus for growth; promote digital economy development and develop Hong Kong into a smart city; and proactively integrate into the overall development of the country and consolidate the city's role as a bridge connecting the Mainland and the world.
As such, the blueprint sets out eight major strategies under the four broad development directions.
To enhance the I&T ecosystem, the Government will promote interactive development of the upstream, midstream and downstream sectors.
It will achieve new industrialisation in the city through bringing in top-notch enterprises and strengthening support for strategic industries such as new energy vehicles and semiconductor chips.
The Government also plans to promote I&T culture for all and enhance the overall I&T atmosphere in the community. Such plans call for enriching I&T talent resources and developing an international talent hub.
Other strategies include accelerating the development of digital economy and smart city, deepening I&T co-operation with the Mainland and leveraging Hong Kong's advantages as an international city to foster global I&T collaboration.
Additionally, the Government will also set up the new Committee on Innovation & Technology Industry Development to advise on strategic development issues under the blueprint, with a view to enhancing the co-operation among stakeholders and reviewing the progress of the blueprint's implementation.
The committee, which will be chaired by the Secretary for Innovation, Technology & Industry, will replace the existing Committee on Innovation, Technology & Re-industrialisation. The membership will be announced later.
Click here for the entire blueprint.