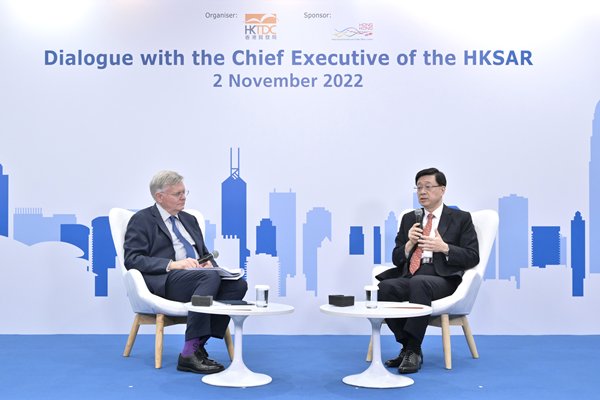 This morning in Hong Kong, I attended the Global Financial Leaders' Investment Summit to address a number of global financial leaders from overseas and the Mainland travelling to Hong Kong to see for themselves the vibrancy and vitality of Hong Kong, and the tremendous opportunities that this city could offer them. I made it loud and clear that Hong Kong is on stage again. Hong Kong is back in business in the fast lane.
I am delighted to address you all in real time, many of you are old friends of Hong Kong, whereas some of you may not know Hong Kong very well but are interested in knowing us.
In the next hour or so, I am pleased to give you an update of Hong Kong, presenting to you the true picture, notably what our established strengths are, what opportunities we can offer, and what we can do to help your business take off or expand in Asia.
The event today is very timely. Just two weeks ago, I delivered my Policy Address which outlines my governing beliefs and vision as well as the major policy initiatives.
There have always been deep ties between the UK and Hong Kong. The UK is Hong Kong's top trading partner in Europe; in turn, Hong Kong is the UK's second largest trading partner in Asia.
Merchandise trade between us in 2021 reached US$17.7 billion, up more than one quarter over the previous year.
There are some 9,000 international and Mainland businesses that call Hong Kong home, more than 650 are UK companies. That makes the UK fourth, worldwide, and top in Europe in the number of businesses based here.
Last year, more than GBP7 billion in the merchandise trade between the UK and the Mainland was routed through Hong Kong.
That speaks, loud and clear, of Hong Kong's unique status as the business gateway connecting China with the rest of the world. This enviable role is guaranteed through "one country, two systems".
"One country, two systems" has created tremendous opportunities throughout our economy. It helps that we are built for business, thanks to our world-beating financial and professional services, sophisticated logistics, transport and communications networks and longstanding prowess as an international trading economy. Hong Kong is developing into an international innovation and technology (I&T) centre as well.
My Policy Address contains wide-ranging measures to get Hong Kong and our economy back in the fast lane.
First of all, I emphasised the long-term growth there for us in our country's national strategies: the Belt & Road Initiative, the Guangdong-Hong Kong-Macao Greater Bay Area, as well as the 14th Five-Year Plan, which supports Hong Kong's development of regional and global centres in eight high-profile sectors and industries.
I believe that the Greater Bay Area (GBA) is particularly well positioned for overseas companies. After all, the cluster city development takes Hong Kong's domestic market from some seven million consumers to more than 86 million. That is 12 times.
The Greater Bay Area's combined population is larger than most European countries and its gross domestic product (GDP) exceeds US$1.9 trillion. In my Policy Address, I have pledged to boost our collaboration with other GBA cities and their businesses.
Among other things, we will organise GBA programmes and networking sessions attracting no less than 8,000 business professionals in the coming year. We shall reach out to entrepreneurs and business representatives to promote the GBA development.
As business expands in the GBA, we will need to ensure the convergence of legal practices between Hong Kong and the other GBA cities. Which is why, before the end of 2022, we will set up a task force to do just that. We will also establish a dispute resolution mediation platform in the GBA within the year.
Our office in Guangdong will set up a promotion centre to support Hong Kong businesses and people in the GBA. Meanwhile, the organiser of today's dialogue, the Trade Development Council, is setting up GoGBA business support centres to cover all nine GBA cities in the Mainland. The centres offer business information in both English and Chinese, and they are available to all.
The GBA Outline Development Plan supports Hong Kong's status as an international financial centre, a global offshore renminbi business hub and an international asset and risk management centre. Rest assured, we are working to take full advantage of those opportunities.
As the world's freest economy and largest offshore renminbi business centre, Hong Kong can help connect international activities and investors with the Mainland, while channelling Mainland funds to global markets.
The cross-boundary Wealth Management Connect Scheme, launched last year, and the 18 recently announced measures for supporting Hong Kong venture capital investments in Shenzhen's Qianhai area are good examples of innovative financial policy initiatives available throughout the GBA.
Hong Kong is also tapped to become the GBA's green finance centre. In my Policy Address, I promised to greatly expand government green bonds over the next five-year period.
Given Hong Kong's strengths in financial services and the support of the country, our green and sustainable finance market is flourishing. The volume of green and sustainable debt issued in Hong Kong last year reached a record high of US$57 billion. That is four times more than just a year ago.
Green and sustainable bonds totalled US$31.3 billion in 2021. That accounted for one-third of those issued in the Asian market, making us number one in the region.
We were also the first Asian government to issue 30-year and 20-year green bonds denominated in US dollars and euros respectively.
The combined amount of funds to be raised by all of us will be amazing. First of all, the Shenzhen Municipal Government and the Hainan Provincial Government have already issued bonds in Hong Kong, two times by the Shenzhen Municipal Government and the Hainan Provincial Government has just decided to issue. The combined amount of funds to be raised by the two governments' bond add up to over RMB10 billion.
Besides financial development, innovation and technology is central to Hong Kong's future. In the Policy Address, I earmarked close to US$1.3 billion to fund, on a matching basis, at least 100 university research teams with the potential to become successful startups.
My Government is also determined to attract at least 100 I&T companies to set up or expand in Hong Kong over the next five years. They will bring with them at least US$1.3 billion in investment, creating thousands of job opportunities. At least 20 of the I&T enterprises will be internationally recognised.
We are focusing largely on companies in life and health technology, artificial intelligence and data science, as well as advanced manufacturing and new energy technology.
Such I&T companies and many others will find a welcome home in the Hong Kong-Shenzhen Innovation & Technology Park, construction of which is now underway. The park will form part of the Shenzhen-Hong Kong I&T Co-operation Zone in the Lok Ma Chau Loop bordering Shenzhen.
The resulting "one zone, two parks" development, huge and globally ambitious, will encourage local, Mainland and overseas I&T companies to establish a presence in Hong Kong and it will serve as a major centre of I&T collaboration for the entire Greater Bay Area.
Now, I want to talk about the next growth engine. The Northern Metropolis, an international I&T city in the works. The ambitious, urban-rural development will extend over some 300 sq km in the New Territories, following the boundary with Shenzhen.
The planned home of some 2.5 million people, the Northern Metropolis will be at the heart of Hong Kong's I&T co-operation with Shenzhen. Some 150,000 I&T jobs will be based in the Northern Metropolis. And, as a new Hong Kong central business district, its catchment area will reach well into the Greater Bay Area.
Beyond I&T, the Northern Metropolis will attract major sports and cultural facilities, post-secondary education institutions, hospital networks and a cluster of government facilities.
Hand-in-hand with the built environment, the Northern Metropolis embraces sustainable growth. Conservation and restoration will be central principles and we will conserve the GBA's critical wetlands, while enhancing the biodiversity of wetlands in the Northern Metropolis.
Economically promising, environmentally pleasing: that is our vision of the Northern Metropolis.
Then of course, I need talent. Which is why, in my Policy Address, I detailed a number of bold and targeted initiatives to attract talented professionals.
The offerings include a Top Talent Pass Scheme. Professionals whose annual salary exceeds HK$2.5 million – equivalent to GBP270,000 – or those who have graduated from one of the world's top 100 universities can be issued a two-year pass to come to Hong Kong.
An Office for Attracting Strategic Enterprises will also be up and running this year. We will be pitching the promise of Hong Kong to a world of high-potential businesses. That very much includes UK companies.
To make it all even more attractive, we are establishing a US$3.8 billion Co-Investment Fund, the money to be invested in the strategic projects of targeted companies.
My team and I will be leading delegations to travel overseas in the coming year – and long beyond. In just over two weeks, I will travel to Bangkok for the annual Asia-Pacific Economic Cooperation Economic Leaders' Meeting. It will be my first overseas visit since assuming office. I can tell you many more visits will follow.
The Financial Secretary will oversee a task force committed to re-building our ties with traditional and emerging markets. It will include business leaders, as well as representatives from the Trade Development Council, the Tourism Board and other high-profile officials. They will be abroad a lot in the months to come, talking business, telling the good and true stories of Hong Kong.
The task force will also invite about 1,000 prominent overseas and mainland individuals – from business, the media, government and other areas – to come to Hong Kong. We want you to see for yourselves what we are doing, what our strengths and opportunities are, and what Hong Kong can do for you.
Our overseas economic and trade offices (ETOs) and Mainland offices are also organising teams dedicated to attracting businesses and talented professionals. That includes our ETO in London. The teams will be in business – the business of bringing you and your business to Hong Kong – before year's end.
Those dedicated teams, I should add, will be free to work in some pretty special perks. The benefits could cover incentives on land, tax and financing, as well as facilitation on visa application and children's education. They can even offer tailor-made plans to fast-track your establishment of operations in Hong Kong. We want to make it as easy and profitable for you, your family and your company as possible.
I must also tell you that Hong Kong is already in action with vibrancy. We held an Investment Promotion Week a few weeks ago. This week we have our FinTech Week. And the Monetary Authority is hosting the Global Financial Leaders' Investment Summit today, bringing together over 200 global financial leaders from different major institutions.
And there is more this weekend. Yes, world-class rugby is back too. After a suspension of three years, the Hong Kong Sevens returns, featuring memorable moves, on the pitch and in the stands.
And there is so much Hong Kong beyond the stadium. The West Kowloon Cultural District continues to expand and amaze. The Hong Kong Palace Museum opened there in July, featuring more than 900 priceless treasures from Beijing's Palace Museum. Also at West Kowloon is M+, Asia's first global museum of contemporary visual culture, which is celebrating its first birthday this month.
Then there are the theme parks and country parks, the seaside hiking trails, pubs, designer shops and restaurants everywhere you wander. These, and so much more, have long made Hong Kong the tourism, culture, sports, entertainment and can't-wait-to-come-back capital of Asia.
Chief Executive John Lee gave this speech at the "Dialogue with the Chief Executive of the HKSAR" webinar on November 2.