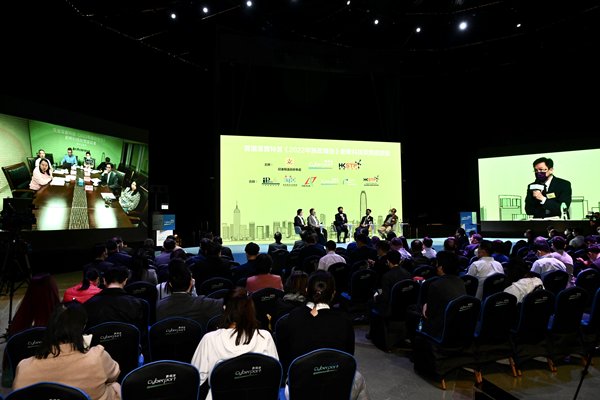 Secretary for Innovation, Technology & Industry Prof Sun Dong today attended a seminar to brief the innovation and technology (I&T) sector, professional bodies, academic associations and research clusters on the I&T initiatives outlined in the Policy Address.
Prof Sun said the Policy Address fully implements the National 14th Five-Year Plan's vision in supporting Hong Kong to develop into an international I&T hub, and the Government will promulgate the Hong Kong I&T Development Blueprint within this year to set out major policies under four development directions.
During the seminar, he highlighted the launch of the $10 billion Research, Academic & Industry Sectors One-plus Scheme, which aims to incentivise collaboration among industry, academic and research sectors to further promote the "1 to N" transformation and realisation of research and development outcomes and the industry development.
Focusing on industries of strategic importance, such as life and health technology, artificial intelligence and data science, as well as advanced manufacturing and new energy technology, the Innovation, Technology & Industry Bureau will proactively attract high-potential or representative I&T enterprises from around the globe by collaborating with the Office for Attracting Strategic Enterprises and making use of the Strategic Tech Fund and the Co-Investment Fund.
It will also create the post of Commissioner for Industry and subsidise the setting up of more smart production lines in Hong Kong under the Re-industrialisation Funding Scheme, aiming to increase the number of production lines by four times to over 130 in five years.
Prof Sun called on the participants to join hands to attract enterprises interested in expanding their businesses in Hong Kong by leveraging their Mainland and overseas connections, with a view to driving the development of the local industry.
The Policy Address also announced the enhancement of the Technology Talent Admission Scheme, which will cover more emerging technology areas to facilitate the admission of technology talent from the advanced manufacturing industry.
In addition, the Government will use the Hong Kong-Shenzhen Innovation & Technology Park in the Lok Ma Chau Loop as a pilot to study the trial implementation of a cross-boundary policy on I&T co-operation with Shenzhen on the basis of "one zone, two parks".
At the 20th National Congress of the Communist Party of China, Secretary General Xi Jinping pointed out that the country will fully implement the strategy for invigorating China through science and education, the workforce development strategy and the innovation-driven development strategy to improve systems for scientific and technological innovation and build world hubs for talent and innovation.
By formulating clear development directions and strategies as well as enhancing co-ordination and planning of relevant measures, Prof Sun said he hopes to spearhead the promotion of I&T development at full speed in order to live up to the expectations of the country.
The seminar was held in person and online, and live-streamed in Shenzhen, Guangzhou and Foshan sub-venues.