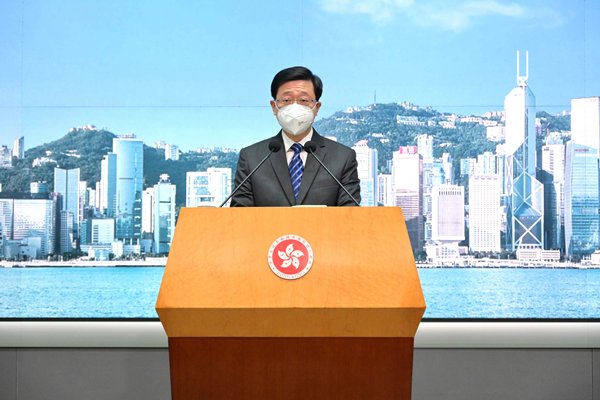 (To watch the full media session with sign language interpretation, click here.)
Chief Executive John Lee said the Government will launch specific plans to enable more activities, particularly large-scale ones with economic elements and international events, to take place in Hong Kong while also controlling COVID-19 epidemic risks.
Speaking to reporters ahead of today's Executive Council meeting, Mr Lee noted that two wide-reaching events, the Global Financial Leaders' Investment Summit and the Hong Kong Sevens, were successfully held in Hong Kong last week.
Furthermore, the Government will roll out special arrangements to make way for more activities and events to be staged in the city, he explained.
"While we balance the risks of the COVID-19 epidemic against economic and social needs, we will try to have special plans to allow activities to proceed with what we consider as acceptable restrictions.
"And it is under this principle that the Hong Kong Sevens was conducted, which was a very successful event, and I think the international world has seen that Hong Kong has come back to the centre stage for international activities.
"We will look at the data and see how we will be taking anti-epidemic measures in the future.
"What is important is, under the '0+3' quarantine arrangement for inbound travellers, a lot of activities have already been taking place. At the present moment, I think the '0+3' arrangement has served its purpose for Hong Kong to the acceptable and anticipated extent, allowing a lot of activities to happen."
As one prime example, the Government announced the launch of specific arrangements for inbound tour groups yesterday. Under such an arrangement, travellers holding an amber code under the Vaccine Pass, who are received by licensed travel agents, will be allowed to enter designated tourist attractions and dine in partitioned areas in designated catering premises.
The Chief Executive said: "The tour groups special plan for inbound travellers is also an example that we will be making special arrangements for while we can control the epidemic risks.
"As we go through more and more activities, we can, of course, review the experience and then look at the data, so that we can have more measures designed so as to allow activities to proceed with the maximum freedom."
Mr Lee added that the red and amber code system will not be lifted for now as it is an effective way to manage the risks and control the epidemic situation.