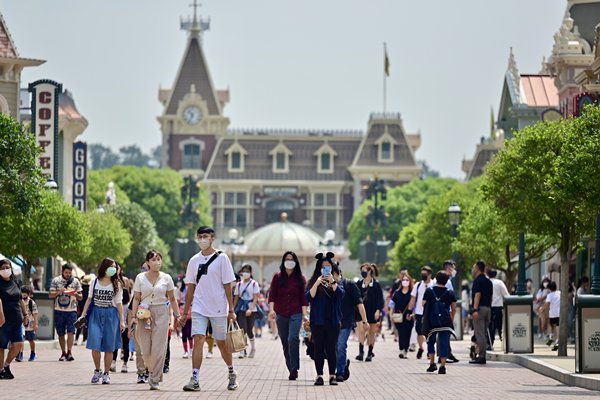 Inbound tour group travellers holding an amber code under the Vaccine Pass, who are received by licensed travel agents, will be allowed to enter designated tourist attractions including theme parks, museums and temples, and dine in the partitioned areas in designated catering premises that meet special anti-epidemic requirements.
Such specific arrangements for inbound tour groups will be launched this month, the Government announced.
It explained that the decision to roll out these arrangements was made under the principle of striking a balance between epidemic risks and the need for economic development, and after considering that inbound tour group travellers would be received and assisted by travel agents and accompanied by licensed tourist guides to carry out tourist activities in compliance with the anti-epidemic measures.
The Government believes that the new arrangements can support the gradual resumption of the inbound travel market in an orderly manner and provide a more favourable business environment for the travel trade.
Licensed travel agents must pre-register the itineraries of inbound tour groups with the Travel Industry Council and undertake strict compliance with applicable anti-epidemic measures in order to be eligible for the specific arrangements.
The anti-epidemic measures include requiring inbound group tour travellers to use the LeaveHomeSafe mobile app and comply with requirements under the Vaccine Pass, as well as mandating staff to wear a mask at all times when receiving the travellers.
The Government will have a discussion with the council about the implementation details that include the coverage of designated tourist attractions, the special anti-epidemic measures required for the designated catering premises and the anti-epidemic measures to be observed by the staff who receive the travellers.
Relevant information will be uploaded to the council's website in due course.
Meanwhile, the Government said it will explore whether it is permissible to allow inbound tour group travellers with short-term stays in Hong Kong to undergo fewer nucleic acid tests upon arrival and conduct daily rapid antigen tests during the itinerary, while balancing the epidemic risks.