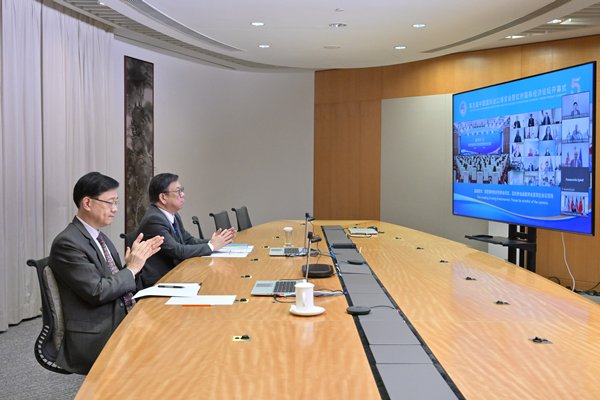 Chief Executive John Lee and Secretary for Commerce & Economic Development Algernon Yau participated online in the opening ceremony of the fifth China International Import Expo and the Hongqiao International Economic Forum this evening.
The theme of this year's Hongqiao International Economic Forum is "Stimulation of Global Opening-up Impetus & Sharing of Co-operation Opportunities". President Xi Jinping delivered a speech at the opening ceremony.
Apart from joining tonight's event, Mr Lee will share insights on topics that include the Regional Comprehensive Economic Partnership (RCEP), regional economic integration and economic recovery while he delivers a video speech tomorrow during a high-level session themed RCEP Spurs Higher-level Opening Up, the Government said.
The expo is a significant move by the country to actively open the Mainland market to the world and provides enormous opportunities for Hong Kong enterprises to tap into the domestic market. Over 200 Hong Kong firms are participating this year.
The Trade Development Council will set up the Hong Kong Services Zone and the Hong Kong Product Zone at the expo. A total of 47 Hong Kong enterprises will showcase in the two zones a wide array of products and services including food, professional services, financial services, logistics services, infrastructure and construction, licensing, information and communication technologies, innovative technologies, design, branding and marketing.
Meanwhile, the exhibition area of the Commerce & Economic Development Bureau and Invest Hong Kong in the Hong Kong Services Zone will highlight Hong Kong's advantages, opportunities arising from the 14th Five-Year Plan and achievements in the past 25 years, the Government added.
The expo will start tomorrow and run for six days until November 10.