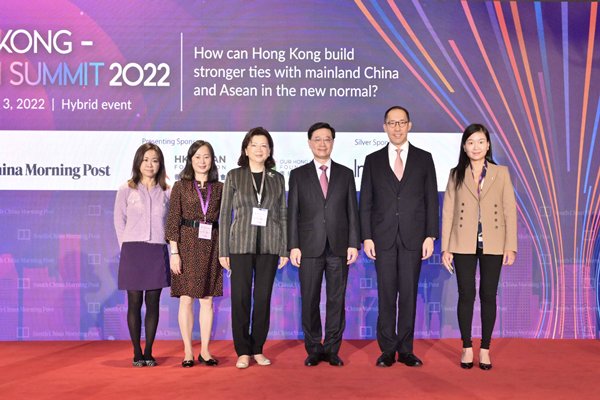 Today's theme asks how Hong Kong can "build stronger ties with Mainland China and ASEAN (Association of Southeast Asian Nations) in the new normal". I am result-oriented, so I must try to answer that question. We have been living in the eye of a pandemic for nearly three years now. And we know, first-hand, the extraordinary turbulence and the unprecedented chaos it has created for economies, businesses and communities all over the world, Hong Kong included. It may take a crystal ball to tell whether we are now living, and working, in a new normal, or simply working to revitalise the old normal.
But what I can tell you, loud and clear, is that Hong Kong is onstage again. We have our doors open.
The response to this, I am pleased to tell you, has been reassuring. This week, the world has returned to Hong Kong for FinTech Week and for the Global Financial Leaders' Investment Summit.
At the Financial Leaders' Summit yesterday, I told the international assembly of C-suite leaders and high-flying investors from all over the world that while our financial system has known daunting times, it has "never buckled, never wavered. Like Hong Kong itself, it remains strong, sure and enviably secure".
There are plenty of reasons for that. Let me begin with the most important, with our country.
This year we are celebrating our 25th anniversary as a Special Administrative Region of the People's Republic of China. We are also marking the 25th anniversary of the successful implementation of the "one country, two systems" principle.
It is this governing principle that reinforces our deepening ties with our motherland and the 10 member states of ASEAN, our longstanding business partners and friends. It is "one country, two systems" that has strengthened – and will continue to strengthen – our connectivity with the Mainland, with ASEAN and with the world at large. "One country, two systems" will power our future.
As President Xi Jinping said, speaking here in Hong Kong on July 1, and I quote: "'one country, two systems' has been tested repeatedly in practice. It serves the fundamental interests of not only Hong Kong and Macau, but also the whole country."
Yes, Hong Kong plays a significant role in the development of the Mainland of China. The National 14th Five-Year Plan supports Hong Kong as an international or regional centre in no less than eight sectors, and Hong Kong is important to such national strategies as the Belt & Road Initiative and the Guangdong-Hong Kong-Macao Greater Bay Area.
Hong Kong, after all, has the experience and connections to help Mainland companies and capital go out to the world, while attracting global enterprises and capital to the Mainland.
That is thanks to our prowess as an international financial centre and a global trading, shipping and logistics economy. Thanks, too, to our emerging role in innovation and technology (I&T).
Hong Kong has long been blessed with advantages. Just two months ago, Canada's Fraser Institute once again ranked Hong Kong the world's freest economy. The institute has done so every year since the report was first published in 1996.
Hong Kong embraces free trade and capitalism, together with the rule of law and the independent judicial power exercised by our judiciary and, thanks to the Basic Law, we guarantee a free flow of capital, people and information.
Our location is another strong advantage. From Hong Kong International Airport, most major Asian cities are within four hours' flight. Within five hours, you can reach half the world's population.
Experience, location and connectivity – with the world, and with the Mainland – have long made Hong Kong the natural bridge to the Mainland, in particular in the bay area. To make those connections work – to make Hong Kong a critical player among the 11 cities of the bay area – we need to come up with practical plans.
We are doing just that. In my Policy Address last month, I announced the establishment of a Steering Group on Integration into National Development. I will personally chair this steering group, with the Chief Secretary, the Financial Secretary and the Secretary for Justice as deputies. My three deputies will champion close ties with our motherland, and steer their bureaus and departments in enhancing communications with Mainland authorities.
Among other initiatives, the steering group will work to ensure a seamless fit between Hong Kong and the opportunities under the 14th Five-Year Plan and the bay area development. We will also create concrete plans to boost the flow of people, goods, capital and information within the bay area.
In fact, we have made a good start already. Consider, for example, the opening of such major cross-boundary infrastructure as the high-speed rail, linking Guangzhou, Shenzhen and Hong Kong, and the Hong Kong-Zhuhai-Macao Bridge, which have brought Guangdong, Hong Kong and Macau closer together. New boundary control point improvement projects are also in the pipeline.
Our study on building the Hong Kong-Shenzhen Western Rail Link is under way. The link will create a cross-boundary railway connecting Hong Kong's fast-developing Northern Metropolis with Shenzhen's Qianhai area, the hub of modern service development in the bay area.
Plans do not get much bigger than the Northern Metropolis. As Hong Kong's new international I&T city, it will take up an area of about one-third the size of Hong Kong and will house about one-third of our current population. Its connections and its impact will reach well beyond the neighbouring Shenzhen, radiating deep into Guangdong and contributing to the overall development of the bay area.
The Guangdong Economic & Trade Office of the Hong Kong SAR Government will set up a dedicated promotion centre to support Hong Kong people and businesses in the bay area, and the Hong Kong Trade Development Council will soon offer its popular GoGBA Business Support Centres in all of the nine Mainland cities in the bay area.
We also want more Hong Kong enterprises and professionals in the Mainland market, especially the nine municipalities of the bay area. That is beginning to happen and in such sectors as construction as well as legal and insurance services.
In the coming year, we will focus on building mutual legal assistance in civil and commercial matters as well as enabling the convergence of legal practices between Hong Kong and the rest of the bay area. An online mediation centre will be established as well, to encourage interaction between the people and businesses of Hong Kong and other cities in the bay area.
Capital flow is also moving well, including the launch last year, of the Cross-boundary Wealth Management Connect.
Last month, the Hainan Provincial Government and the Shenzhen Municipal Government announced that they would issue offshore renminbi bonds in Hong Kong. The issuances will strengthen Hong Kong's status as a global offshore renminbi business centre, and a premier green and sustainable finance hub in Asia.
Hong Kong's innovation and technology industry will play a pivotal role in the bay area's rise as a global I&T hub. Before the end of the year, we will publish our I&T Development Blueprint. It will feature major planned initiatives for the coming decade, in infrastructure and reindustrialisation, in our I&T talent pool, Hong Kong's development as a smart city, our I&T co-operation with other cities in the bay area and more.
A cross-boundary I&T trial will soon begin, led by the Hong Kong-Shenzhen Innovation & Technology Park and the Shenzhen Innovation & Technology Zone. This "one zone, two parks" cross-boundary co-operation will focus on the flow of I&T material, capital, data and people between our two cities.
In short, Hong Kong remains the ASEAN community's critical partner in realising the far-reaching opportunities offered by the fast-growing bay area and its combined GDP (gross domestic product) of nearly US$2 trillion.
Hong Kong and ASEAN have certainly come a long way together.
Some 25 years ago, ASEAN collectively ranked fifth among Hong Kong's trading partners. Since 2010, ASEAN has been our second-largest trading partner.
Last year, Hong Kong-ASEAN merchandise trade exceeded US$160 billion, representing more than 12% of Hong Kong's total trade volume. In the first half of this year, it rose more than 12%, year-on-year, reaching US$84 billion.
The ASEAN-Hong Kong, China Free Trade Agreement and the related investment agreement entered into force in February last year. With this highly encouraging development, I am confident that our trade and investment ties, and our co-operation in general, will only continue to expand.
At last count, over 80 ASEAN-headquartered companies were listed in Hong Kong and there will be fresh opportunities for more to join us in the coming year.
Following my Policy Address, the Hong Kong Stock Exchange issued a consultation paper proposing a new listing regime for specialist technology companies in such areas as information technology, new energy and environmental protection, advanced hardware, new food and agricultural technologies and advanced materials.
Hong Kong, of course, is one of the world's leading listing hubs and has been the number-one IPO (initial public offerings) centre in seven of the past 13 years. Last year, total market turnover on the Hong Kong Stock Exchange hit a record-breaking US$5.2 trillion.
In September, Secretary for Commerce & Economic Development Algernon Yau attended the sixth ASEAN Economic Ministers-Hong Kong, China Consultation in Cambodia. Secretary Yau reviewed the progress of our FTAs (free trade agreements) with ASEAN, visited local Hong Kong businesses and discussed Hong Kong's early accession to the Regional Comprehensive Economic Partnership or RCEP, the world's largest free-trade agreement.
Hong Kong formally requested accession to RCEP in January, when RCEP entered into force for most of its member economies. All 10 ASEAN member states are members of RCEP and they welcomed Hong Kong's request for early accession. Substantive discussions are set to begin in the coming year.
There is good reason for confidence. All 15 member economies of RCEP are major trading partners of Hong Kong. They accounted for more than 70% of our total merchandise trade last year, and about 50% of our trade in services and investments in 2020.
There is more. Hong Kong has signed bilateral free trade agreements with 13 of the 15 member economies of RCEP.
We can add enormous value to RCEP, given our unmatched role as the business bridge between the Mainland and the rest of the world as well as our status as one of the world's leading financial centres, and China's major international financial centre.
The bay area, with a population larger than most European countries, will expand Hong Kong's domestic market from just over seven million to more than 86 million consumers, and we will be a central player in the bay area – in financial and professional services, in trade and transport, in innovation and technology and more.
Hong Kong has a great deal to contribute to RCEP, to ASEAN and to regional economic development in general. I will make those points and a good many more, when I travel to Bangkok in two weeks' time for this year's APEC Economic Leaders' Meeting.
The annual gathering brings together 21 member economies of APEC – the Asia-Pacific Economic Cooperation. We take part in APEC under the name Hong Kong, China. That participation is constitutionally guaranteed under the Basic Law. It is, needless to say, a strong testimony to Hong Kong's unique advantages under "one country, two systems".
It will be an invaluable opportunity for me to showcase to the world Hong Kong's resilience in the face of the pandemic and our unwavering commitment to regional economic cooperation.
I cannot wait to get started, to tell the good and true stories of Hong Kong, to tell the world that Hong Kong is onstage again.
Central to this stage is a good supply of talent. In my Policy Address, I set out a range of initiatives to attract talented young professionals to Hong Kong. That includes working graduates from the global top 100 universities and any person earning HK$2.5 million, equivalent to US$320,000, a year.
We are also keen to bring in companies that meet our strategic sector needs. We are setting up a Co-Investment Fund of HK$30 billion, which translates to a whopping US$3.8 billion, to invest in their high-value business opportunities. We will make it easy for them to settle themselves, their companies and their families in Hong Kong, with our tailor-made facilitation.
And we welcome ASEAN companies and talented professionals to join us in building the future, right here in Hong Kong.
Chief Executive John Lee gave these remarks at the Hong Kong-ASEAN Summit 2022 on November 3.